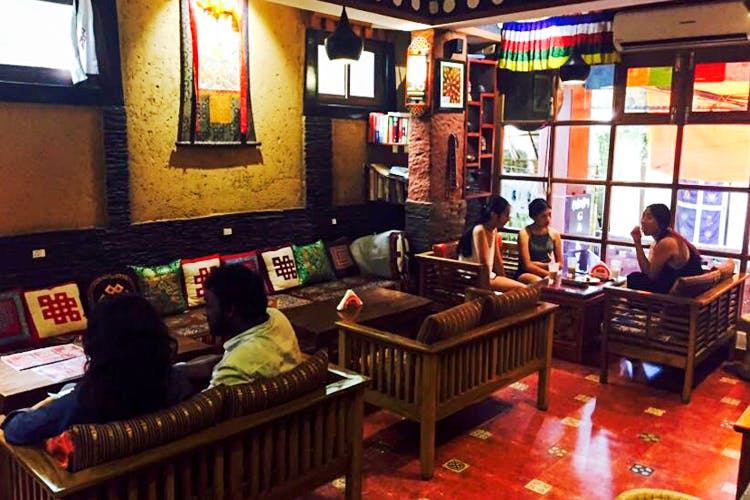 Kham Coffee House, For Some Quiet Time Over A Cuppa
Shortcut
This quaint little cafe is a great alternative to more popular ones like AMA, especially when you're looking for respite from the constant bustle of Majnu Ka Tila.
Must Eat
They serve homemade bakery products like doughnuts, muffins and slices of pie. If you're feeling particularly hungry, go for their eggs or other all day breakfast items.
Must Drink
They have the usual selection of hot and cold beverages – tea, coffee, fruit juices, and shakes. However, their ginger honey lemon tea hits the spot when you're looking for something refreshing.
What We Loved
The ambience is where Kham takes the cake. It's tiny but beautiful, with comfortable seating, mellow lights and courteous staff.
The walls are decked with thangka paintings and framed photographs, and the bookshelves are stocked with enough books and magazines to keep you busy.
What Didn't Impress Us
The menu doesn't set the place apart from other cafes in MKT – the food, though, is pretty great.
What Is The Best Time To Visit?
A lazy afternoon is the best time to hang out in Kham Coffee House. Grab dessert here post-lunch, or spend the weekend morning lounging about with their books and free Wi-Fi.
#LBBTip
The seats next to the windows overlooking the street are the best ones. Watch the the MKT locals go about their day as you sip on a mug of hot tea to make the best of the spot.
More Information
Kham Coffee House
Nearest Metro Station: VIDHAN SABHA
Comments