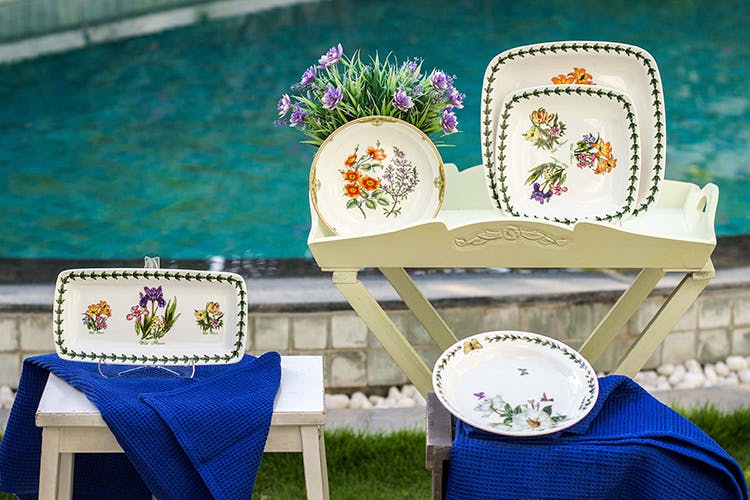 Whattay Find: Kitchen & Dining Ware From The World's Best Vintage Markets
Shortcut
Started by three friends who love travelling and shopping, Kitchen Dining & More is the place to go if you like to eat and serve every meal in style. Vintage tea sets, shabby chic serving trays, lace-adorned bread boxes and biscuit jars in the cutest avatars are a few of our favourite things here.
Eat Is An Amazing World
Whether you like hosting tea parties for your girl gang or crazy dinner parties that end with red wine splashes on the wall, this website will woo you with its tastefully curated offerings. The dinner sets offer an insane variety and we're kind of torn between the country-style collection with retro prints and the grey stoneware range.
These floral trays and cake stands are equally amazing for they remind us storybooks where cuddly bears come over for dinner. We bet by now you're thinking that you don't need any of these things because you don't entertain anyone apart from yourself at home. But wrong. Even if you aren't a tea party person, you can't deny that there are times when you want to serve food in good-looking pots and pans or just have a summery table cloth on that dining table, right?
Or if you are just averse to all parties in general, you're probably someone who curls up on the beanbag with a book. So check out these candy-looking coffee/tea mugs or this bake ware range when you want to indulge in some therapeutic cake-making.
We, however, are loving these cane and wood storage boxes that'll turn our kitchen from a disorganised mess to a Pinterest dream.
So, We're Saying…
Think of the strangest kitchen need or the fussiest house guests you've ever had… And this site has all the answers. And not just staid, boring answers but really sexy comebacks.
Comments