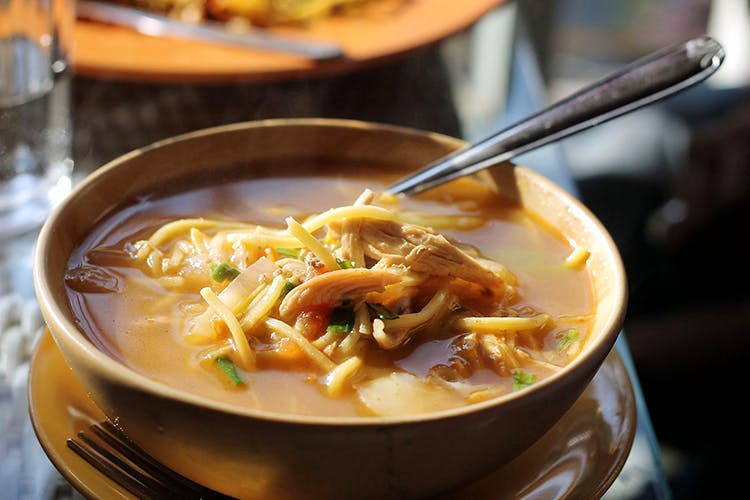 Visit Koko For Yummy Tibetan Dishes At Prices You'll Love
Deep into the narrow lanes of foodie haven Majnu Ka Tila lies this hidden gem that is just enough off the mainstream map to not get a lot of visitors, and instead be more frequented by the locals when they want to unwind and share a secret beer. Very friendly, with brisk service and pocket-friendly prices, this is one place worth the long trek it takes to reach it.
Must Eat
Koko is all about authentic Tibetan flavours. Beyond the obvious crowd pullers, I strongly recommend the mushrooms in butter garlic that are mild and chewy and balance out the stronger flavours in some of the other gravies. For a bit of a stronger hit, go for the famed Ermadasi which is laced with cheese and chili for that sudden spice kick. Polish off everything with soft and tender tingmos.
Must Drink
Beer is sold clandestinely, so ask nicely and you just might be rewarded. Otherwise, a fruit beer or a fresh lime will also work to help you sail through a few hours of heavy gluttony.
What We Loved
What's not to love about MKT? The lazing monks, the labyrinth of lanes and the curious stores of curios add to a very distinctive vibe and transport you to another world. Within this wonderland, Koko serves up quite the impressive range, at prices that are very un-Delhi too.
What Didn't Impress Us
Believe it or not, but the buff I had was a little tough and a a little hard to chew.
What Is The Best Time To Visit?
A lazy weekend lunch perfectly complements the languid pace of life here, and will also give you time to maybe pick up some exquisite chinaware on your way out.
#LBBTip
Specify your heat levels so that the chef doesn't overdo the chilli. The Ermadasi can have quite the fiery kick, so eat with caution. Stock up on cash before you go – no cards accepted.
More Information
Koko Restaurant
Wi-Fi Available

Nearest Metro Station: VISHWAVIDYALAYA
Comments