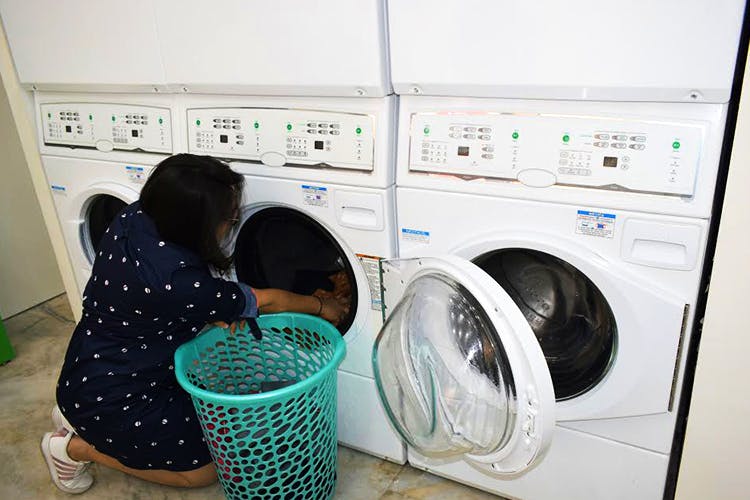 Take A Load Off: 5 Laundry Services That'll Make Life Easier
When you live solo, sans washing machine, or just have a schedule that doesn't allow time for washing clothes on the regular, sometimes you need to outsource. Luckily for us, people everywhere are always coming up with services to make our lives just a little easier. We've got a bunch of laundromats all over our city, and here are some which you could turn to for clothes as fresh as daisies.
Quick Clean
Go into any of their spacious, air-conditioned, free WiFi-equipped outlet, put your laundry bag on a weighing machine, and let them do the rest. They'll wash, dry and fold your clothes within an hour, so bookmark them for when you're on a time-crunch. Quick clean has laundromats mainly in the south Delhi region, but, in case you're feeling too lazy, they also offer the pick-up and drop option for areas in and around Green Park and Gautam Nagar.
Dhobighat
When you have to drop off your washing at Dhobighat, they'll wash, dry, press (extra charge) & fold—so you basically don't need to do anything except put together your freshly-cleaned outfits that will be delivered to you within just 24 hours. They will add fabric softeners, bleach and starch if you ask them to and offer free pick-up and drop option only in Dwarka.
Their price is pretty straightforward—INR 89/kg (includes pick and drop); dry-cleaning price determined as per the clothing item.
Dhobi Mart
They'll wash, dry, fold and iron (optional) your clothes, but pieces that are dry-clean only, you'll have to go somewhere else. They also offer pick and drop services for which charges can vary depending on the distance. Allow them at least 8 hours to take care of your washing, but if it's urgent and you ask nicely, they'll get it done within 2 hours. If you're sticking around while you get your clothes washed, they have board games and free WiFi to pass the time. They have outlets in Hudson Lane, DLF, Gautam Nagar and Malviya Nagar.
Their pricing starts at INR 130 for 3 kg (price varies outlet-wise).
UClean
Uclean is India's first organised chain of tech-enabled laundry and home cleaning services that not only offers pick and drop laundry services but they'll also clean your your sofas, carpets and curtains. You can visit their outlets in GK, Vasant Kunj, Defence Colony, Ashok Vihar, Rajouri Garden (and 8 more) or avail their pick and drop services and they even do monthly 30 day packages (wash, dry & iron) with four pick-and-drops.
Price: Starting at INR 1,499 (30 day package for laundry) or INR 50/kg (minimum 5 kg)
Pick My Laundry
Pick My Laundry is operational in South Delhi, Gurgaon, Noida and Indirapuram. They offer pick and drop laundry services and also do carpet dry cleaning, shoe dry cleaning and sofa cover dry cleaning. With this laundry service, you have the option of adding antiseptic, fabric softeners and their machines are eco-friendly, so they consume three times less water than other machines. Best part – once you schedule a pick-up, their turnaround time is 48 hours.
The pricing starts at INR 59/kg
Comments