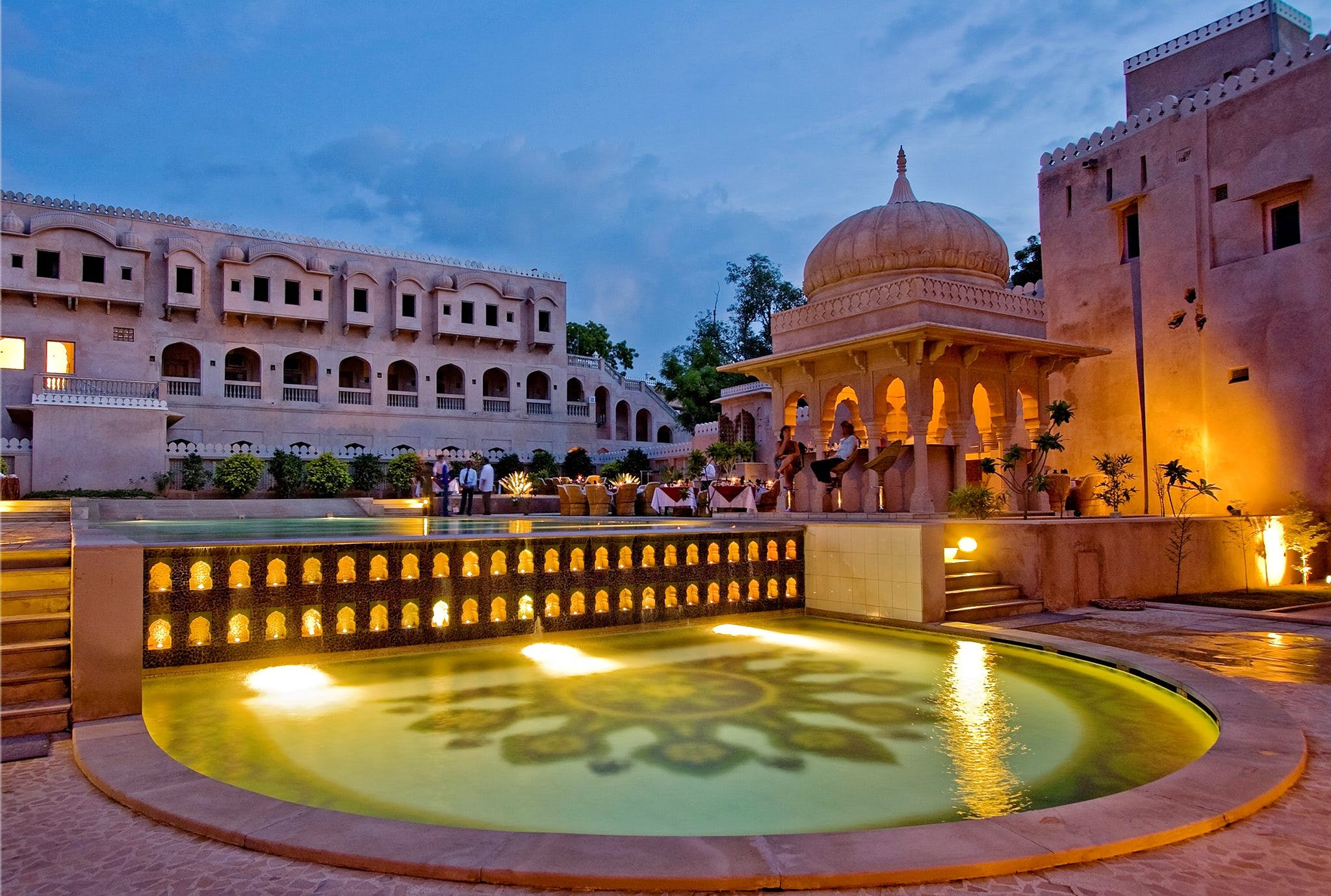 Long Weekend Plans: Check Out These 10 Spots For An Epic Getaway
Whatever your budget, time preference, and destination desires, we have ideas that might fit the bill for the upcoming long weekend. From rural experiences to restored forts, hotels and hillside cottages, here are all the places that you can head to.

Dundlod Fort Heritage Hotel, Dundlod, Rajasthan
Fancy staying in a traditional Rajputana fort still inhabited by its owner? You're guaranteed to have an authentic experience since it is a royal residence. The rooms are traditional in style, so think high ceilings, pillars, and ornate motifs. As for entertainment, knock yourself out with rooftop dinners, horseback and jeep safaris, or if you're a firm when in Rome believer, then a camel for all the sightseeing. Your host is an avid horseman, so we recommend skip the camel and do horseback instead.
The village of Dundlod is in the heart of Shekhawati, and with a long-standing history, expect to see many havelis, forts, family portraits, and some Louis the XIV furniture.
Phool Mahal Palace, Kishangarh
Founded in 1611 AD, Kishangarh is a heritage town located about 72 kms away from Ajmer; this is where you'll find Phool Mahal Palace which has been converted into a luxury heritage hotel. The location is pretty stellar—right at the brink of Gundalao Lake and with the Kishangarh Fort as its backdrop.
The rooms have been done up with antiques and colonial furniture to retain that old-world charm. If you do end up going there, we suggest you check out Studio Kishangarh, which is an art initiative by the princess of Kishangarh to revive the Kishangarh style of painting.
Bob's Place, Nainital
With a view of oak, rhododendron, deodar, and pine tree-covered mountains, Bob's Place is situated at the heart of the Kumaon Himalayas. They have multi-level standalone cottages; you can pick the ones situated higher for a great view and the lower ones for a gorgeous sit-out area.
Each cottage comes equipped with a fireplace, heater, and blankets, so you can be nice and toasty. Head out on one of the many walking trails and come back to gorge on some yummy home-cooked food.
DueNorth Saur Cottages, Dehradun
Located in Garhwhal about five kilometres from Chamba, Saur was a once a forgotten village that had been abandoned by its inhabitants, until it got picked up by DueNorth—a group that promotes tourism adventure in Uttarakhand—for restoration. The cottages are Pahari houses that have been renovated to accommodate guests and are essentially made of bamboo, mud, stone, and wood.
Look out for the handicraft items made by women from the village. We also suggest you don't leave without trying some locally-made rhododendron juice.
Norwood Green, Palampur
Located in the picturesque valley of Palampur, Norwood Green is where you should head to get a breathtaking view of the Bundla tea gardens. Their boutique cottages are warm and inviting, and perfect to spend a few idyllic days in. You even have the option of renting bicycles to go on a tour around the valley.
Castle Mandawa Hotel, Jaipur
Not far from Dundlod, Castle Mandawa Hotel is also evocative of the Shekhawati region. An erstwhile fortress, now converted into a heritage hotel, like most restored properties, expect traditional art and architecture, generations of family portraits, palanquin-roofed balconies, antique cannons and arms, and a huge brass gong, struck by the resident timekeeper (yes!).

It's equipped with 80 rooms, a verandah, an Ayurvedic centre, a swimming pool and spa, and in-house restaurants. For recreation have your pick between camel and horse rides, jeep safaris, puppet shows, folk dances, and vintage car rides.

Chuka Pilibhit Tiger Reserve, Uttar Pradesh
Located in the Pilibhit district in Uttar Pradesh, in the foothills of the Himalayas and the plains of the 'terai' in Uttar Pradesh, it is one of India's 41 project tiger reserves. Forests in Pilibhit have at least 36 tigers, home to over 127 animals, 556 bird species, and 2100 flowering plants.
If you like the outdoors and aren't fussy about living in the quarters, the tiger reserve has its own tourist log huts, all of which are super basic, and charge a nominal fee. But there's something about living smack in the middle of wildlife, and you can't put a price on that.
National Parks & Wildlife Sanctuaries
Banni Khera, Rohtak
Are you looking for a secluded rural getaway? Check out Banni Khera Farm near Rohtak. Banni Khera is a 10 acre sustainable and eco-friendly farm stay. They offer a range of activities including fishing in their 7.5-acre lake, cycling, pottery classes, music shows, yoga, meditation, and so much more.
The Fort Unchagaon, Garhmukteshwar, UP
A royal heritage hotel located in Uttar Pradesh, most famous for its Surya Mahal. Don't expect the finest, most luxurious service and facilities, but if a hotel well off the beaten path is what you're looking for, look no further. Equipped with 23 double rooms and suites, a multi-cuisine restaurant, boat cruises (it's very close to the Ganges), horseback riding, bullock cart rides, pottery sessions, and river dolphin sighting tours, they'll definitely deliver in keeping you busy for three days.

Ananda, Garhwal, Uttarakhand
Smack in the middle of the Beaten Road, and for good reason, Ananda is a fail-safe option for long weekends, and perfect for anyone looking for peace, and ways to quickly empty their bank accounts. Featuring a temperature-controlled swimming pool, 6 hole golf course, yoga and meditation sessions, cooking classes, treks, nature walks, birdwatching, white water rafting, and other excursions on request; Ananda has everything.
Comments