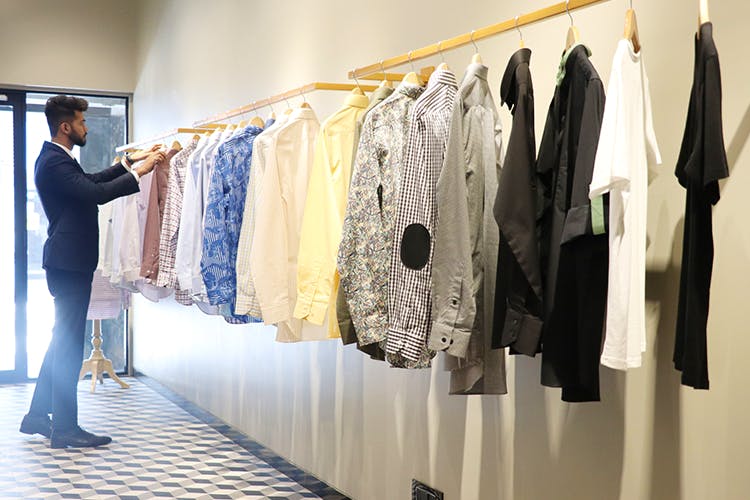 Men, Design Your Own Shirt at Bombay Shirt Company's New Store In Basant Lok
Shortcut
Looking to combine customisation of shirts along with the precision of bespoke? We've found the perfect place for you to do so- the Bombay Shirt Company store at Basant Lok. Unlike the usual made-to-measure brands, BSC charges for the whole shirt and not according to meter, and additional customisations are free. They have a range of more than 200 fabrics for you to choose from along with 14 styles of collars and 4 different types of cuffs! They really spoil us for choice, we must say.

How Can I Order?
The process to order at BSC consists of 4 steps. First, visit their store where you'll be shown a catalogue of the fabrics. After feeling the texture of all and getting the expert opinion of the salesperson, choose 1 (or 2 or 3 or 4!) fabrics following which you can decide how you want to customise it. Some of the popular ways are to add contrasting cuffs to a white shirt, attach leather elbow patches or add twill tape to the inside collar. The master tailor will then take your measurements, and guess what the best part is? BSC offers free life-long alteration for tapering! So you don't need to worry about what will happen if you add or shed a few kilos- they have got you covered. Once your order has been placed, you'll have to wait for 2 weeks before receiving the shirts as they come all the way from Mumbai. If this is your first order, you'll be sent a trial shirt which takes around 7 days to arrive, so that you can ensure the fittings are fine.
If you're totally into online shopping, no need to fret! The exact same thing can be done on their website too. They even have an online Fitsmart algorithm to calculate your size so the entire process is quick and hassle-free.
What's The Store Like?
The store is a resonance of the brand's minimal and timeless design aesthetic. As soon as you enter the shop, you will be immersed in a visual treat with luxurious marble and teak wood accents dominating the interiors. Their sofas are plush and in bright colors of navy blue and orange. There is soft jazz music playing in the background which really goes with the vibe of the place.

How Much Does It Cost?
Shirts start at Rs 2,400 and go up to Rs 75,000 depending on which fabric you choose. They have a selection of international fabrics like Japanese, Turkish, Italian and British that are part of the premium range and therefore priced higher. There is a special offer for LBB readers- use the code BSCLBB1000 and get a Rs 1000 discount at the Basant Lok store, valid till 31st July 2019 (cannot be clubbed with any other offer and loyalty points).

So, We're Saying…
From assisting customers in picking the right fabric to ensuring that they get the right fit, the team at Bombay Shirt Company is committed to help everyone find a shirt that is a true reflection of their personality. So, head to Basant Lok and witness the BSC experience- right from plush store interiors to customising a shirt from scratch.

More Information
Bombay Shirt Company
Nearest Metro Station: Vasant Vihar
Comments