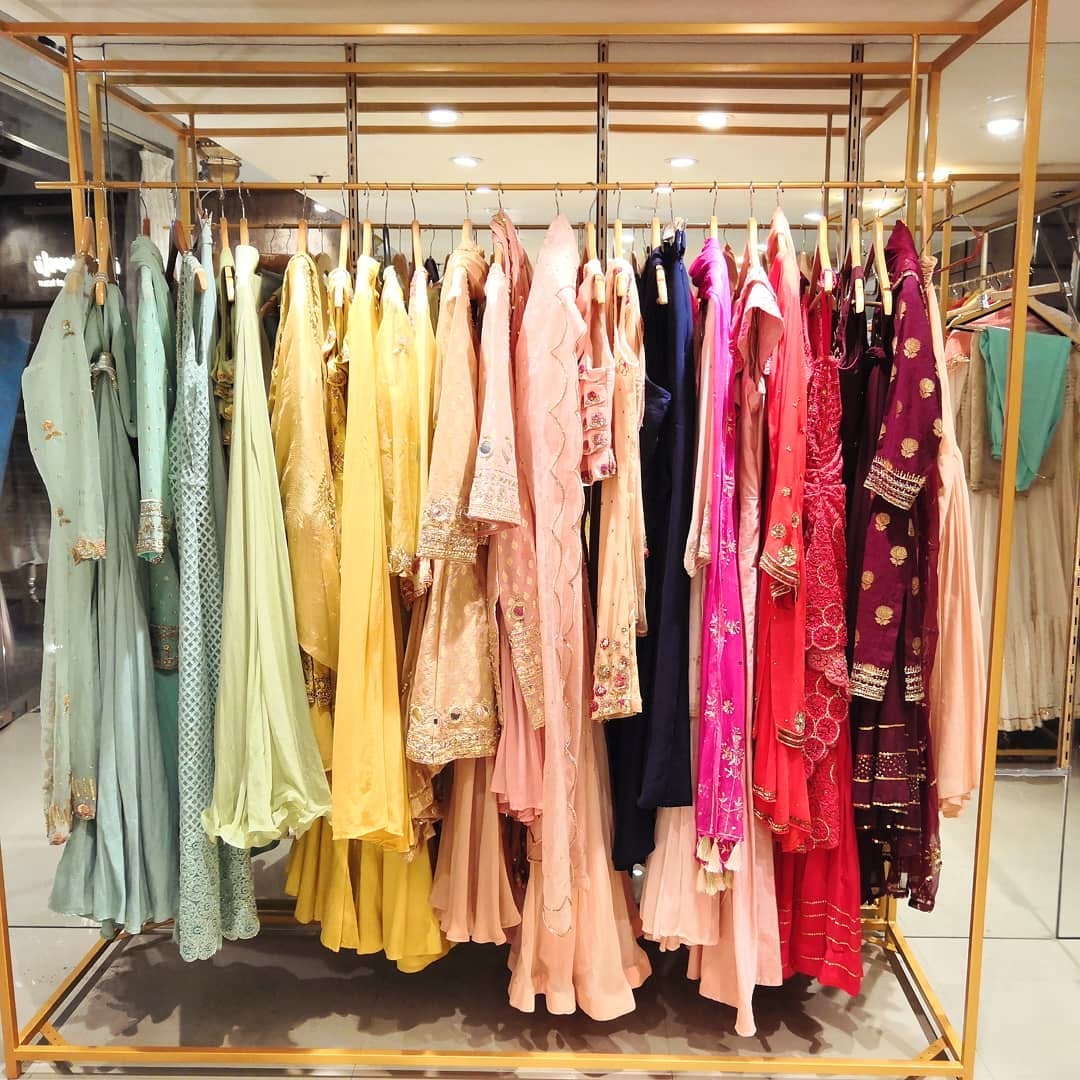 When In Nirvana Courtyard, Shop At These Stores For Juttis, Kurtis & More
The Nirvana Courtyard is an awesome market in Nirvana Country, Gurgaon. Known for its adorable breakfast spots and stationery stores, this market also has some really cool shopping stores. You can get ethnic wear, kids' wear, ethnic wear for kids, and also home decor and furnishing, shoes and accessories.
Here are a few stores that we absolutely love.
Imbaali
Imbaali, a Zulu word for a 'pretty flower', is a designer store by Rashmeet Kaur. It's a cute store and is beautifully packed with intricate and designer pastels for women. Their collection looks comfortable and flowy, and they have pockets in their skirts!
Although the store looks like it only has formal outfits, Imbaali also has a wide range of casual wear like tops, tunics and jumpsuits in hand-loom cottons and linens (range starts at INR 2,000).
They have a really elegant festive line, perfect for mehendis and cocktails (starting from INR 10,000). If you have a dream outfit in mind, Imbaali can turn it into a reality.
95 Fabrics
95 Fabrics is heaven for people looking for all kinds of fabric! The store stocks up almost 200 kinds of fabrics and all of them are of really good quality and can be bought in meters. You can find pure cottons, mulmul, linen and silks like banarasi, chanderi, muga, kota, tussar and brocade here, to name a few (yes, few).
Apart from fabrics, you can also shop for un-stitched three piece suit sets (their ikat prints are amazing). They also have dupattas in banarasi, printed, gotapatti and emroidered (you can get it dyed too). These fabrics are perfect for kurtas, saris and even pants. Just get your fabric and drop by your favourite tailor.
95 Laces
Another segment of the 95 Fabrics store, the 95 Laces store is rather small. The store is loaded with variety of laces, katdana, borders, buttons, latkans and tassels.
The Indian Route
The Indian Route has rows upon rows of beautiful hand-block printed ensembles in smart designs, and soft and subtle colours. They've got jewel-toned outfits in chanderi with lovely, subdued gota work that are perfect for the festive season. At the store, you'll also find cute home decor and furnishing products.
Read more here.


Queen's Boutique
The Queen's Boutique is full of printed, embroidered and solid fabrics and suit-pieces for women and kids. The boutique does not deal in ready-made suit pieces, but they offer plenty of fabrics and laces for you to create your own outfit. They also have saris and dupattas in impressive embroidered designs, so browse through the collection.
Ranof
Ranof recognizes itself as a 'chic clothing label inspired by true colours of feminity', and after looking at their collection, I can't disagree. All of the outfits that they have to offer are super gorgeous. Their apparel, largely, is heavy or has intricate work done on it. However, they look stunning and are not too heavy on the eyes. I would recommend that you definitely check out their collection if you're looking for semi-formal and formal ethnic wear.
Rang
The Rang store has a really cool collection of printed and solid kurtas, cute tops, blouses, skirts and even cotton saris that you should definitely check out. Don't miss out on the scarves and accessories that the store stocks (they can go really well with your kurtas).
You can also buy for your little one here as they have some adorable mini-lehengas for toddlers.
Bucko
Bucko, apart from apparel, also does children's room décor and accessories in the cutest way we've seen. With most surfaces meant to draw and paint on, there's no putting that crayon down. They have a new D.I.Y. Arts and Crafts' Line and they provide kits for kids as well as parents which bring out the creative side of both while giving them some great decor pieces to put up in their rooms (like wall art, buntings, name plates, dream catchers, frames etc).

Fashion & Trends
This hidden store in the market has some amazing footwear and accessory options for all age groups. From plain white shoes (that are affordable and don't say 'abibas') to ethnic juttis (in cute designs like indigo prints), the store has so much to offer. They also have a range of bags and accessories like slings, belts and socks.
Comments