Oh Seat! Check Out Furniture Boutique, Knock On Wood's Collection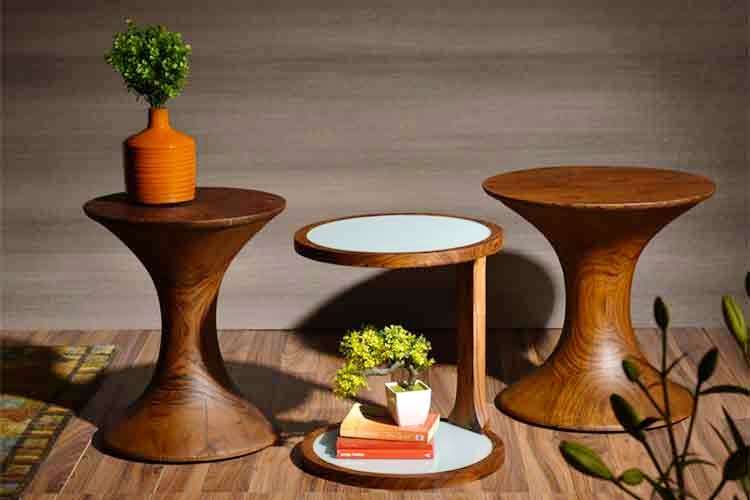 Shortcut
Delhi-based furniture boutique studio Knock on Wood offers luxury custom made pieces and specially crafted designs.
Who Are They?
Knock on Wood offers customised wood centric products for your house. Designer Aarti Aggarwal's pieces are tasteful and functional and there is a little bit of something for everyone. We browsed through the website we noticed four distinct collections – Forest, Mardi Gras, Hospitality, Signature and Canvas of Life.
What We Loved
Honestly, there was a lot to love. The Forest collection was our favourite, and the best pieces were the Three Wise Men stool and table combo, and the Three Piece Coffee Table. We also liked the look of the low-lying Forest Flame table. In the Hospitality collection, we found a gorgeous three layered Tea and Dessert Trolley and the Nesting and Buffet Table, complete with three hot plates to keep your food warm.
The standout in the Signature series was the Lily Pond Sideboard, while in the new Canvas of Life selection we went crazy for the Forest Brew Coffee Table, an intricate 16 part piece, and the beautiful Storyteller Book Shelf.
Final Say
We loved the look of some of Knock on Woods pieces and found ourselves imagining them situated in different areas of our house. What really stood out was the obvious attention to detail. If they make standard pieces that well, we're pretty sure they would do an absolutely amazing job for customised orders. Shop here if you want to spice up the house, or get an awesome house warming gift for your friends.
Comments