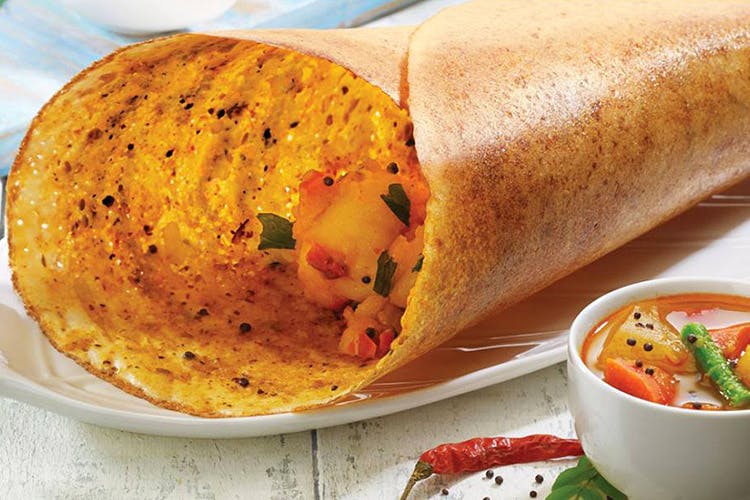 6 Restaurants That Never Disappoint When You Seek A Hot, Crispy Dosa
If you're anything like us, and can't say no to south Indian food, then you'll know that their are few things in life better than buttery, crispy dosas. Here's a list of six places that make some of the best dosas in Delhi.
Carnatic Cafe
Carnatic Cafe is a very affordable place with a vast variety of dosas. Try their Ghee Roast Dosa – it's a plain dosa made in pure Ghee. This, with piping hot sambar and coconut chutney, is the stuff that dreams are made of.
Sagar Ratna
We've all heard of the highly popular restaurant, Sagar Ratna. But have you tried their Makhni Paneer Masala Dosa? The combination doesn't sound very appetising, but it's definitely worth a try. The crispy dosa stuffed with buttery paneer is out of this world.
Swagath
Words don't do justice to the Mysore Masala Dosa that comes with a spicy potato stuffing. While you're here, you may also want to indulge in their seafood.
Juggernaut
There are so many things from their menu that we can't get enough of- from rasam to idli, they never disappoint. But from their dosas, we have to say that their Rava Dosa takes the cake.
Naivedyam
Naivedyam has a variety of dosas, which essentially means that literally everyone will have their personal favourite dosa here. But the Erulli and Tharakari dosas are a must try, since this is one of the few places that serve these.
Saravana Bhavan
One of the most iconic spots for South Indian food in Delhi, Saravana Bhavan always has a line during lunch time, speaking volumes of their food. You can't really go wrong but if you aren't going in a big group, we recommend sticking to their set thalis so you can try a little bit of everything. Their Ghee Roast Mysore Masala Dosa is phenomenal too.
Comments