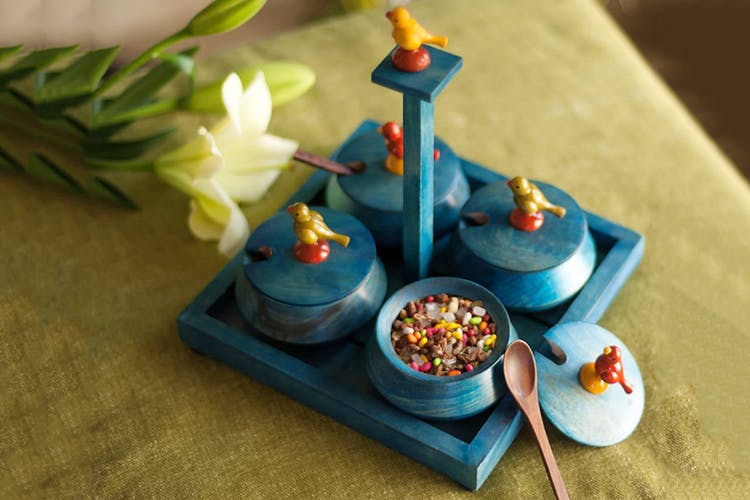 Rose & Sandalwood Facepack, Sheesham Trays & More: This E-Store Covers All Your Needs Under One Roof
In this new age of digital shopping, it's not easy to find online establishments that offer a variety of products under one roof. Lucky for us (and you) we found an e-commerce store that's got everything - right from organic face wash and shampoos to handcrafted to hand-painted wooden lamps to beautifully embroidered apparel and more. Here's what we loved!
Beauty
Navvi.in has a rich range of beauty products made with the finest organic ingredients which will make your skin feel pampered. We TOTALLY recommend their Rose and Sandalwood Facepack which is really gentle on the face. It will also give you an instant pink glow while deep cleansing your skin.
Wellness
Navvi.in's wellness range of products has got us swooning. Their expansive range of products has everything you need to relax, rejuvenate and replenish your skin. We absolutely love their body scrub called Ubtan which efficiently removes impurities, dead cells and tanning. Made with all organic ingredients the scrub will nourish your skin from deep inside, giving it a fresh look.
Not just that! They have something your HAIR CARE too! Their Lemongrass shampoo is a powerful hair cleanser and will make your hair silky smooth and oh-so gorgeous.
Home Decor
If you thought body and skin care are the only things Navvi.in specializes in, then you're wrong! They have a wide range of products that will make your home look even more beautiful. One of the products we totally love is their Wooden Spice Box which is a handcrafted wooden box made with Sheesham wood, perfect for storing your spices. Plus, it comes with a sheesham spoon. We are still not done! If you want to impress your guests, then go for their trays. Their beautiful range of trays come in different designs and are made with finest quality wood. We personally loved the quirky Elegant Blue Wooden Serving Tray but they've got options galore! Check it out because we promise you, your guests will keep coming over just for a dekko of your trays.
Apparel
Another range of products by Navvi.in that we have got our eyes on is their apparel. With summer approaching fast, Navvi's ethnic range has got splendid suit sets which will have your style and comfort quotient right on point. Say goodbye to sweaty summers with their free-flowing brown kurta set which is also a delight to the eyes. If you're feeling like amping up your style, then channel your inner shopaholic and add this ever so stylish-yet-subtle yellow kurta cotton set to your summer faves. If you have loved these, then head to Navvi's website now!
So, We Are Saying...
Whether you are looking for a cure to your skincare woes or want to amp up your glam quotient or just want to make your house look good, Navvi.in has got all that you need.
Comments