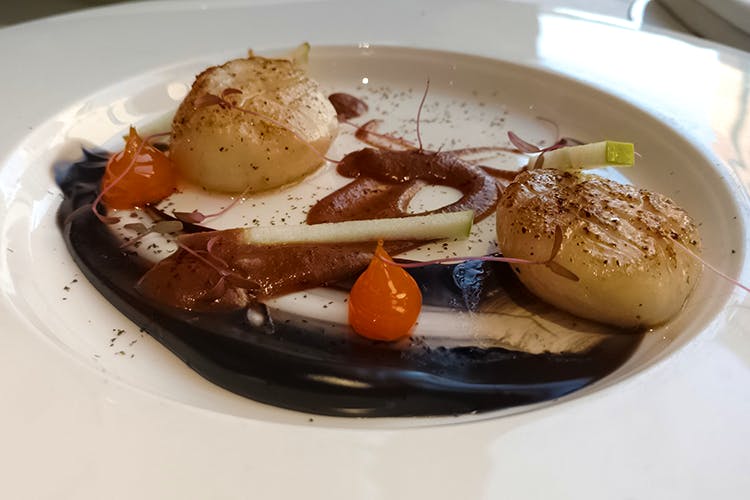 Duck Kebabs, Samosa Sandwich & Sticky Toffee At Roseate House's DEL
Shortcut
Bird Group and Aerocity's newest hotel, Roseate House, apart from beautiful rooms, also has some beautiful food on offer. A mix of world cuisine with a smattering of Indian thrown in.
Samosa With A Spoon
Picturing a a smushed up samosa in between two slices of bread with some garnishing tossed about, we reluctantly agreed to try the samosa sandwich.
We're happy to report no  bread was involved- we got slabs of the outer covering of a samosa topped with globules of mashed potato filling. It was a very good samosa, and very easy to eat. Thus setting the tone for the meal, we moved on to a lovely Confit Duck Gilafi Kebab with a beetroot puree- it was puree deliciousness even though the flavour of the duck wasn't apparent.
Other highlights include the rare done Duck Breast with Potatoes Dauphinoise, Gucchi Pulao with New Zealand Lamb Shank and Sticky Toffee Pudding in Caramel Sauce.
We're pretty intrigued by their quinoa dosa too- a good change from salads when you're taking the healthy route.
Liquor WIP
Roseate House hasn't yet got liquor permissions but once they do, they're going to be doing an array of fresh cocktails both at DEL and their bar, Chidiyaghar. Till then, we're more than happy sipping on their well-done Cinnamon Iced Tea and Mango Chilli Iced Tea.
More Information
Roseate House
Nearest Metro Station: DELHI AERO CITY
Comments