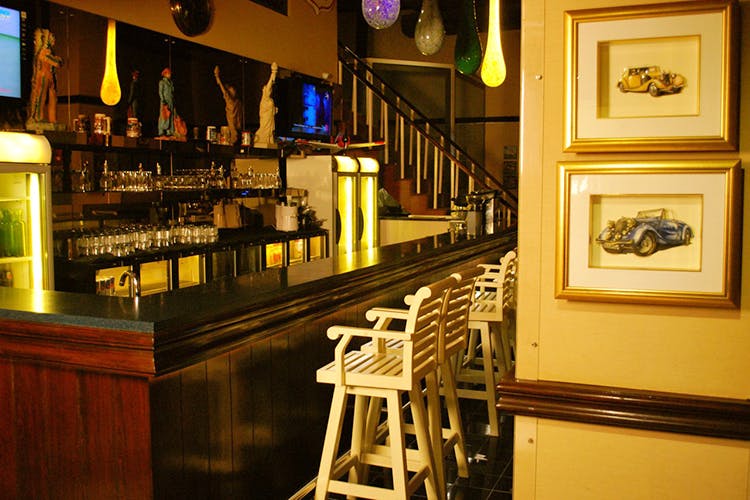 Route 04: Choose the Path of Cheap Booze and Bites
Shortcut
The drinks are cheap at American bar and restaurant Route 04, and the food is pretty decently priced. We love a place that won't burn a hole in your pocket, and where the staff is friendly.
Must Eat
Peri Peri Pizza, Mushroom Poutine
What We Loved
Try the various flavours of shisha; they are amazing. The service is pretty prompt, the ambience, pleasant, and the place is a delight for any rock or metal lover; they play great music. This is your spot to relax at after a hard day's work. They also have a Transformer Bumblebee installation in the restaurant, which we found slightly odd, but awesome, nonetheless.
You can try any of their pizzas; the crusts are thin and really crispy. Other than that, the Mushroom Poutine is a delight to have with the Pina Colada.
What Didn't Impress Us
We recommend that you skip the Crispy Mushrooms.
What is the Best Time to Visit?
We love going on Thursdays for Ladies Night; Fridays for Karaoke Nights or the ManUtd match screenings, if you prefer a happening ambience. Otherwise, you can visit anytime, though we suggest you book a table first.
#LBBTip
They do match screenings for Manchester United football club, where you can get amazing offers on drinks. You can know more about the screenings by adding them to your profile.
More Information
Route 04
Wi-Fi Available

Nearest Metro Station: RAJIV CHOWK
Ask Bhavna a question