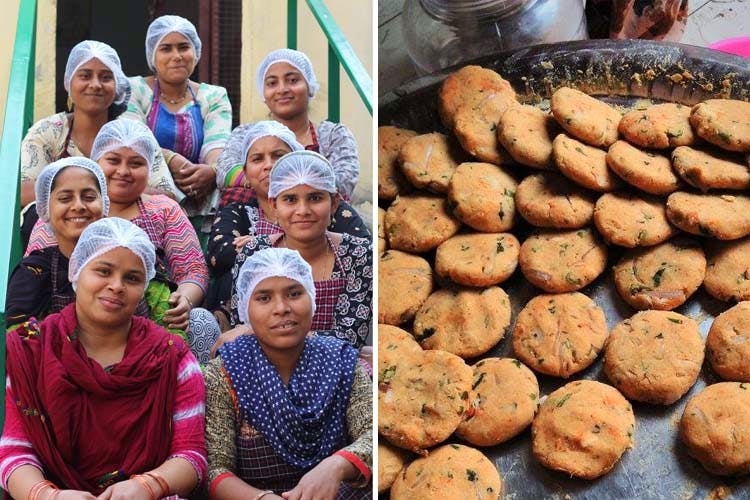 These Nizamuddin Women Make Kebabs & Haleem Using 700-Year-Old Recipes
Shortcut
Zaika e Nizamuddin is a self help group of 11 women chefs, all of who stay in Hazrat Nizamuddin Basti and meet every day to run a food delivery service. They supply nutritious food to the undernourished kids from the basti and feed anyone who wants to try their melt-in-the-mouth shamis from their 700-year-old culinary heritage.
Great For
Preservative-free meat kebabs, biryani, haleem, veggie kebabs, korma, saalan, khichda, soya kebabs, catering, home delivery.
What Makes It Awesome
For people that like their kebabs with a side order of a back story, the group is a special project under the Nizamuddin Urban Renewal Initiative of Aga Khan Development Network. Even though these women set up stalls at Oz Haat every year, and even hosted pop-ups at Mashaik Manzil's terrace earlier this year, we decided to make a trek through the basti's gullies to run a test in their bawarchi khaana.
We were happy to see how willing these home chefs were to tell their stories and take us through what was cooking in their pans. And, the kitchen itself was huge and quite spic and span (yes, we looked in every corner).
They do homemade, affordable and preservative-free meat kebabs, biryani and haleem using traditional recipes. The women's group caters to larger gatherings and individual home orders too. Veggies, they have hara bhara kebab, soya kebabs, veg biryani and khulad kheer for you. Getting down to the things we tried, we gobbled up their besan laddoos that broke to pieces in our hands, and tasted of roasted atta (yum!). The meat-eaters in office polished off the chicken shamis, and testified that they preferred them to mutton for the first time in their lives. Their biryani (INR 300 for a kg of chicken, and INR 150 for veg), got rave reviews, too. Plus, they do korma and chicken fry. Not enough options, you say? Well, they have 12 options for now, and are looking at adding more as they go along.
Apart from meals, they have some dry snacks, including naariyal laddoos, til laddoos, chivda, nutri mathris and more. For each of these small batch of snacks or full meals, ingredients are sourced fresh when the orders pour in (naah, nothing is refrigerated).
What Could Be Better
Honestly, we wouldn't change a thing about how this sweet little venture works but somehow, if they managed to iron out the kinks in their delivery process and perhaps tie up with a reliable delivery partner, it'd be all-in-all amazing.
Pro-Tip
If you need to order for over 20 folks, you'll need to give them a day's notice. You'll also need to order a minimum of half a kg of kebabs and a kilo of biryani to make it worth the women's time and energy. They even make deliveries in autos themselves, so the cost gets added to your bill. But hey, the taste is as authentic as it gets and these kitchen elves work really hard in keeping the venture together. So, stop being miserly.
Comments