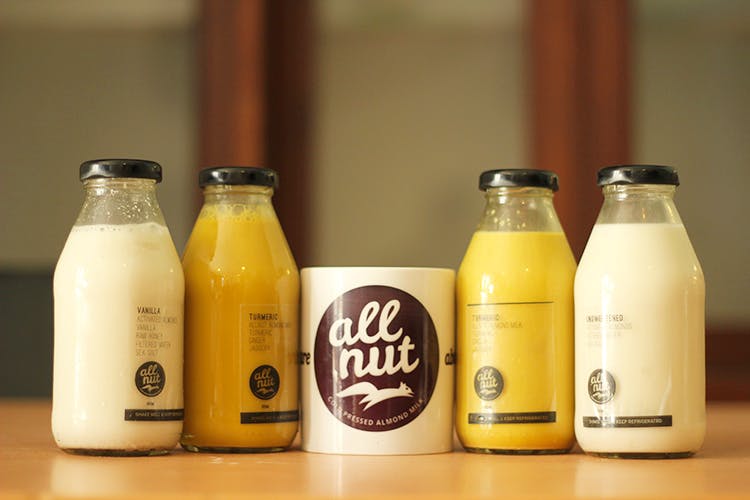 Dairy Intolerant? Try This Cold-Pressed Almond Milk In Exciting Flavours
Shortcut
Taking the healthy route with tasty, fresh and natural nut milk, Allnut provides options for people who may have dietary issues, a food intolerance or nutrition imbalances. It's also a really healthy, vegan addition to your diet.
Great For
Flavours, prompt delivery, catering to people with dairy intolerance.
What Makes Them Awesome
These hand-pressed milks can be currently purchased in different flavours like cacao, vanilla, Basil, cinnamon, chia and turmeric. They also have additive and preservative-free pistachio, hazelnut, cashew, coconut milk and butter. We love that these are all made of activated almonds and are cold-pressed to ensure maximum nutritive value. They'll add chia seeds if you want to add that extra texture to your morning drink. In fact, we're in love with their Vanilla and Cinnamon with Chia seeds.
Allnut delivers all across NCR. Each bottle contains about 30-40% almonds and is perfect for all those who are dairy or lactose intolerant, nutrition seekers, diet watchers, fitness freaks or vegans. A bottle costs INR 180 and they charge INR 100 for delivery. It's best bought in a set of three bottles together.
What Could Be Better
We wish they delivered on weekends—they currently only deliver on Mondays and Thursdays.
Pro-Tip
They make the milk every Wednesday and Saturday and deliver fresh, so don't forget to pre-order. Each bottle lasts 3-5 days and must be refrigerated.

Comments