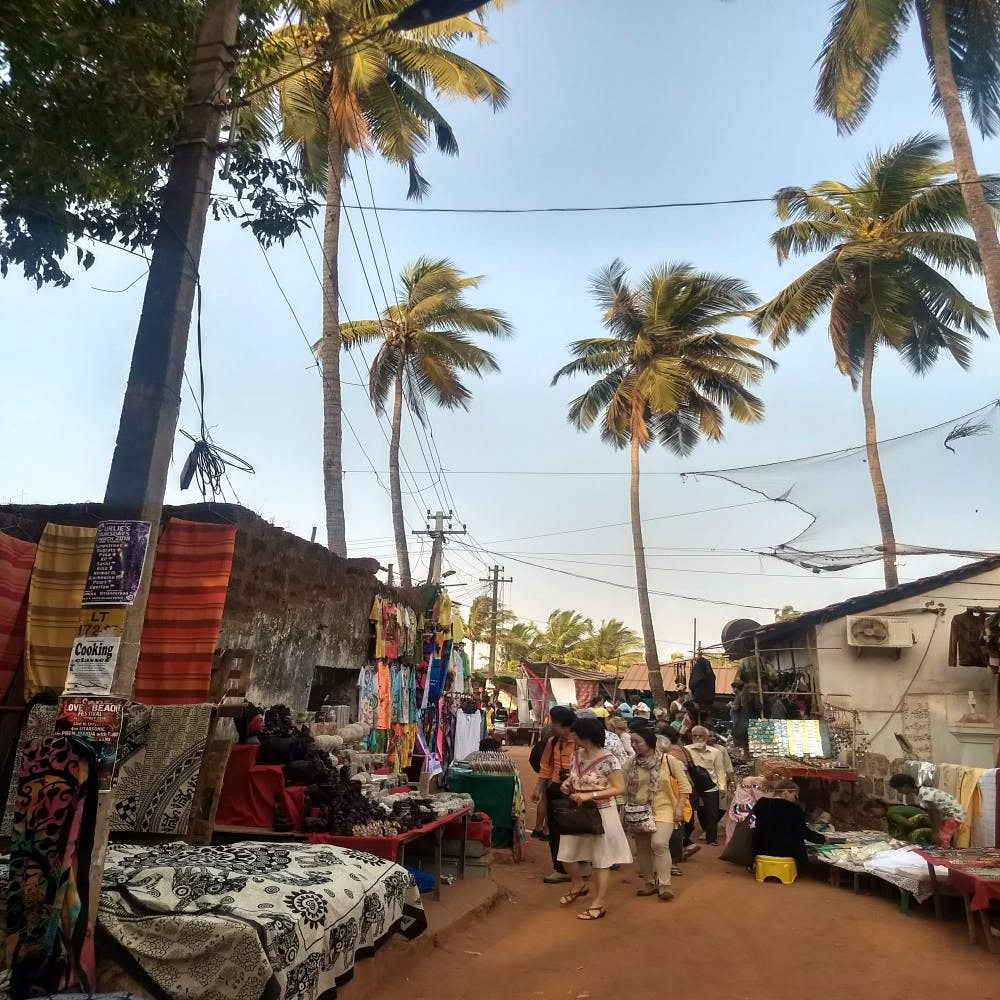 Guys, Look At All Our Cool Finds From The Wednesday Flea Market In Anjuna!
The Anjuna flea market every Wednesday is a whirlwind of everything cool and exploring its many lanes and corners threw up some fascinating stuff. We spent a long, languorous afternoon feeling the occasional sea breeze in our hair and browsing through thousands of stalls that dot the area every week. Between the jungle of all the clothes, decor, jewellery, trinkets, shoes, collectibles and artefacts, some things really caught our fancy. Come, take a look.
Beachy Designer Kaftaans
This designer duo from Israel moved to Goa decades ago and now work on easy breezy resort-y kaftans, shrugs, tops and skirts in Goa-friendly, natural fabrics. Located at the very beginning of the market, a little walk from the parking lot, it's easy to spot with the man ringing a bell and sweetly calling out to the 'ladies'. The brand's called Unique Tunic and prices range from INR 500–2k. They also sell on Etsy, by the way.
Tribal Masks, Dreamcatchers & Cool Headgear
This guy, again at the beginning of the market, assuming you're entering from Cafe Looda side, is a constant at the flea markets in Arpora, Night Bazaar and the Anjuna Wednesday flea. He stocks up on macrame dreamcatchers in every possible size and colour, tribal marks, gypsy headgear, bamboo sling bags and summer dresses. His shop's otherwise in the Tito's lane in Baga. His prices are a little OTT (INR 700 for boho hair clips and INR 1,200 for the bags) but there's a little scope for bargaining.
Macrame Jewellery
While you'll see a bunch of shops selling macrame jewellery, two stood out for us. One was a part of a juice centre-meets-cafe and had a small section of cool feather and macrame earrings and necklaces (prices starting from INR 250 for anklets). Then, there was a Japanese couple, selling similar stuff but marrying macrame with stone in gorgeous necklaces. Their bracelets were priced from INR 200 but necklaces were above INR 1k depending on the stone used.
Dresses Made From Old Saris
After having met Drashana at the Goa Collective Bazaar, we were happy to spot her again in Anjuna. She's been turning old saris into dresses, shrugs, beach cover-ups, kurtas and more. If you like a bit of kitsch in your wardrobe and don't fear embellishments, her phulkari beach cover-ups are amazing. Most clothes are priced between INR 200 and 700. She's at the extreme end of the market, usually the last shop overlooking the beach. If you have an old sari you want converted into a dress, she takes one day to stitch. Can't find her? Call Darshana for directions at 9764269495.
Tibetan Market Stuff
While walking through, you might see a small section dedicated to a mini Tibetan market. Here's where you can find silver trinkets, Tibetan singing bowls, flags, artefacts, handlooms and more. It's all laid out on the ground and it's a bit of a treasure hunt in here.
Beaded & Glass Jewellery
Ask someone for Sea Breeze restaurant and you'll be surprised how buzzing it is even in the afternoon with people guzzling down beer and enjoying live music. If you're facing its entrance, walk over to the left side of the market and you'll (hopefully) spot a couple from Turkey selling pendants, bracelets and chokers, all made by hand. We're told some of these are woven or beaded while others are glass work. Most jewellery here is priced between INR 400–1,500.
Bright, Peppy Bikinis
Two shops for us particularly stood out. One is right opposite the glass jewellery selling shop near Sea Breeze, this one's got two-piece bikinis and colourful bikini tops, all made in crochet. The other one is a guy who sells the typical Bangkok-sourced swimwear in geometric patterns, Aztec prints, trippy neon colours. The sets are priced between INR 850 and 1,150.
All And Sundry
There's a whole lot of other stuff that caught our fancy including Gujarati embroidery bags, bedsheets, blouses, antique replicas like gramophones and binoculars, gladiator sandals, artwork, decor and some indie designers from all over India selling cool merch like handloom clothes, crazy headgear, artsy tees and more.
Comments