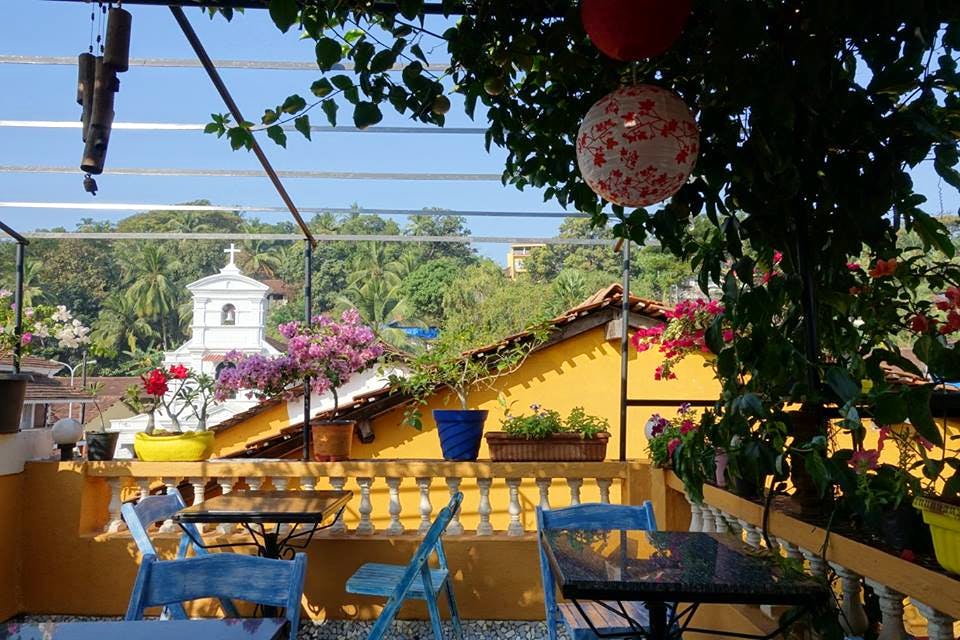 Beer On The Beach Is Passé: We Love Walking Around Goa's Latin Quarter Instead
What Did I Like?
Fontainhas is a beautiful Portuguese colony, with colourful and vibrant homes that boast of picturesque doors and balconies. The serenity and calmness of the colony only add to its charm, we never felt that we were actually in India. If you appreciate colonial architecture, intricate grill works and decorative window panes, this is the place to be. Afonso Guest House is where we started at. It's a yellow guest house, right in the heart of Fontainhas. It's hard to miss, with its green plants and bougainvillaeas offset to a bright yellow background. We stayed here for a couple of days, and it's an amazing spot to stay at. They are booked most of the times, so plan ahead. The family who runs the guest house are awesome peeps, and won't shy away to show you around. They are patient with all your questions and will educate you about the history of Fontainhas and its vibrant people and villas alike. We would also recommend a hostel, called Old Quarters, a lane away from Afonso guest house. We checked the hostel out and we have it on our list of recommendations to all solo travellers to Panjim. St. Sebastian Chapel, a walk away from Afonso guest house, is also a nice visit. Goa is full of bigger and more crowded churches. Visiting St. Sebastian Chapel is like visiting a beach that is not frequented by tourists. It's more immersive and makes you feel like you took the road less travelled by. We then headed to Gitanjali Art Gallery, a humble spot to explore in Fontainhas. A local friend and owner of a homestay in Panjim decided to show us around for the rest of the day, and he met us at Gitanjali. When we went there, it had interesting installations. Our friend told us that Gitanjali invites a lot of local artisans and artists, which is what made it a nice visit. It gave us an insight into the local art scene in Panjim. We then rode to Altinho Hill, to check out the Bishop's Palace. What we were not expecting was a beautiful view of Panjim and the river. Although most of the buildings at Altinho are now government offices, it is worth a visit for its scenic views. When all of the walkings got us hungry, we decided to check this place called Bodega. Another recommendation from our local friend and we love him for this. Cafe Bodega is also known as Cafe Al Fresco, is a trendy cafe in the courtyard of Sunaparanta, Goa Centre For Arts. We absolutely loved everything about the place, the art works at Sunaparanta were phenomenal when we visited, the building is old and has typical Altinho architecture that made us go weak on the knees. We found photographic works of William Dalrymple on exhibit, which was a happy coincidence since one of us happened to be an avid reader of his books. The cafe had a beautiful vibe, spending time there was cherishing. It's difficult to narrate its charm in words, but we have been wanting to go back there ever since. We wrapped our day by visiting the famous 'Our Lady Of Immaculate Conception' Church, also known for featuring in Josh and in other Bollywood movies, only to retire back to Afonso guest house for Goan dinner and beer. This was our first trip to Goa, and we were expecting a lot of beer and beaches. We laughed it off the first time our friend wanted to show us the inner roads and by-lanes of Fontainhas, but it was an experience that helped change the idea of Goa for us all. We simply can't wait to find ourselves in a silent by-lane of Fontainhas, to steal a kiss, or to lean on each other at Cafe Bodega, after experiencing astounding art.
What's My Pro Tip?
Book a guest house in advance and plan ahead. Fontainhas can be visited during the off season as well.
Comments