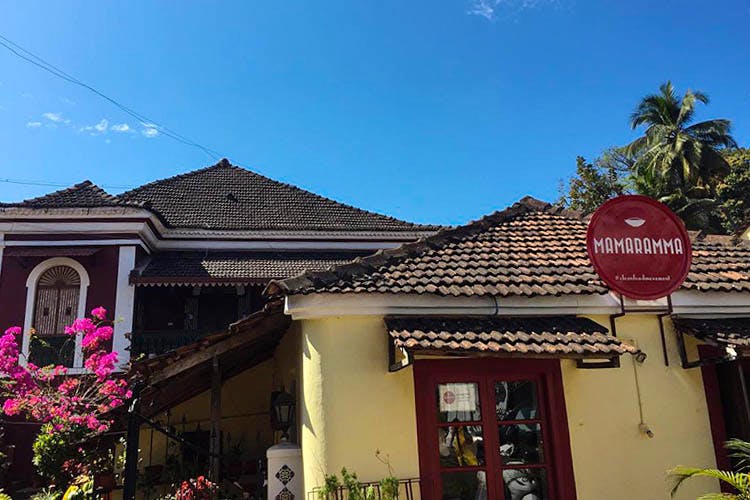 Walking Around The Latin Quarters? Stop For Ramen At This Cute Eatery
Shortcut
Have you visited Fontainhas, the historic Latin Quarter in Panjim, which is also the oldest in Asia? Then here is another reason, for you to make a trek on your next Goan sojourn. Why, you ask? Well, for Ramen and amazing pan-asian food at Mamaramma.
What Makes It Awesome
Mamaramma in Goa rose to fame for its cosy setting and yummy ramen. Nestled in a charming old home, right next to the St. Sebastian Chapel in Fontainhas, this eatery is all about the healthy food movement. Since all homes in Fontainhas are heritage structures, this one, too, beautifully carries the character of these old beautiful houses with its cute red trims on windows.
Right off the bat, we called for the highly recommended Miso Buttered Prawns. The dish came with some bread, that we polished off in a few minutes flat. For the main course, we went with the ramen and ordered a big hot bowl of health and goodness. It was flavourful and had noodles, eggs, chicken, corn and other fresh veggies and herbs. Because we were greedy, we also got the Shrimp Curry with Rice too - a decision our hungry stomach doesn't regret one bit. The next time, we're ordering chicken teriyaki rice.
This October, they launched a new menu with Asian-inspired dishes. You can expect Pork Bao, veggie summer rolls, Korean beef rice and more. You'll also see some dishes inspired by Korea, Malaysia, Thailand and that belt on the menu. So, eat all you will but leave room for their Miso Brownies.
What Could Be Better
The restaurant has a very limited menu and seating. They also don't serve alcohol (yes, we were surprised too!). So, we say, make it an early dinner and stick to juices (or coffee).
Pro-Tip
The eatery is open throughout the year (noon - 4pm and 6-10:30pm). Calls for a ramen party?

Comments