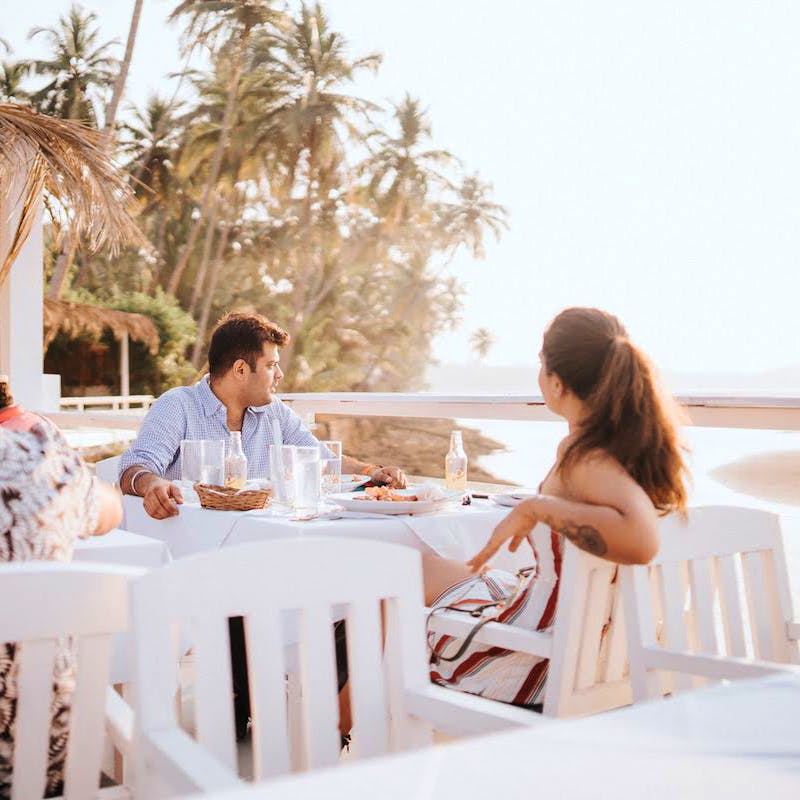 Goa's Best New Bars & Restaurants To Eat At
Over the last few months, some really cool eateries have made their way to The Sunshine State and we couldn't be happier. Whether you want to have a lazy brunch by the river or be a part of a rollicking party where the next morning is a haze or eat an artisanal pizza in a garden, this list is what you need. Conquer them all, one Feni and one lobster at a time.

Soho
This pub in Panjim is spread across two levels and their small outdoor space overlooks the street. We've heard rave reviews from party makers (both locally and from tourists) who've crawled out of here after a late night of grooving to DJ tunes. This place was once a lodge but little of that remains now thanks to a huge makeover by one of Goa's finest architects, Raya Shankhwalker. We'd suggest a day of walking around Fontainhas on a weekend and ending it at Soho. Their kheema pao, rawa-fried veggies and cocktails are ace!
Mahe
This progressive coastal fine-dine in Anjuna is a take on fusion food that goes insanely right. We had a quiet meal of aubergine rechaedo, crispy okra with pickles, slow cooked mackerel in plum sauce and Kerala beef fry at Mahe and came home with a new appreciation for subtle flavours. Chef Sandeep's take on coastal classics along with innovative fare for both vegetarians and non-vegetarians makes this one a winner. We can't deny that this one's also a looker (there's a store inside that adds to the experience) and does some killer cocktails (Mallu Mai Thai and Deccan Sour, you guys are amazing).
Thalassa
Yes yes, we know it isn't exactly new, but this legendary restaurant moving to a new location is big news; a fresh start, if we may. This is why, you need to visit Thalassa again in 2019 because at their new Siolim spot, the sunsets are breathtaking but the food and evening entertaining acts remain the same.
Royal Enfield Garage Cafe
Where do we even start about this hotspot in North Goa?! This one's massive and has been pretty big in its own right. Pick up some cool biking gear, browse through RE memorabilia, listen to some of the finest live bands, down some chilled craft beer… This garage cafe is a biker's paradise. They've got both: an al-fresco seating and an air-conditioned indoor space for when it pours (or gets unbearably hot) but you want a relaxing cuppa and a pizza.
Davide's Pizzeria
Run by a lovely couple, Davide and Alciela, this garden pizzeria in Candolim's been on every pizza lover's mind (and Instagram feed). Their love for authentic, Italian-style meatballs, pasta and more importantly, thin-crust pizzas is pretty evident in the way they talk about their food. A few bites into the pizza, you know the ingredients are fresh and handpicked and really, it makes all the difference. Spend an evening in the soft evening light or a lazy afternoon chilling here with Capricciosa and Proscuito-e-rucola pizzas.
P.S. The tiramisu that's made with Davide's mum's secret recipe is to die for.
Suzie's
Out of so many things we love about this nugget of creativity, we have to say that the five-course menu ranks the first. Suzie's is a labour of love belonging to Suzie and Hippy. Between the two of them, they've managed to carve this beautiful cubbyhole in the middle of an old Assagao lane that lets you enjoy your dinner (yes, they only do dinner and that too, by reservation only) in total peace. With Suzie being that whimsical, experimental chef, you're treated to a new menu every couple of weeks. This, of course demands that you're ready to be surprised with a small curated menu with both veg and non veg options. The cocktails are perfection, we hear and we wholeheartedly suggest reserving an evening just for this experience.
Mojigao
Nestled in complete wilderness in Assagao, Mojigao is our favourite cafe when we want something super quiet and peaceful. Because it has the Artjuna folks behind it, the coffee is out of the world and the salads, smoothies and breakfasts and healthy and yum. They're also building some huts to stay at and their yogashala is already operational. The only tip we have: Make it before 5:30pm because they shut post that.
Toro Toro
This beauty opened in September of 2018 and has managed to pull us away from the beaches by offering a lovely view of the Baga creek. Their bar looks like a caravan and their multi-level seating is pretty interesting. The river views aside, the real hero is the food here. Try their tapas or sushi or stick to fried Calamari. They even have a big pizza menu that won't disappoint. Our faves: Mud Crabs and Green Melon LIIT.
Tataki
This new immersive Asian dining in Panjim is novel in more ways than one. Thankfully for us, it's not going to be a seasonal beauty so we're hoping to spend a rainy weekend here in the balcony, overlooking one of Panjim's pretty street corners. The interiors are equally (if not more) charming. So, go, get yourself their oak barrel aged whisky cocktails, some fine Asian fare and you're set. We recommend day drinking (Blush Of Rose cocktail FTW) and Goan chorizo fried rice, Udon noodles with pork belly and Vietnamese style beef.
Black Market
With perfect ambient lighting, mellow music and a well-designed bar, Black Market has all the ingredients to make it our current favourite restaurant in Goa. This spacious and beautiful restaurant is actually our pick for both, a quiet date or even a dinner-time get-together with the foodie gang. In case you didn't know, this is another gem by the Black Sheep Bistro folks, so the food and drinks here are beyond extraordinary. The big plates are perfect for one and because we wanted to go straight for the kill, we ordered 5 main-course dishes. We're happy to claim that the sangria, Pulled Pork Ribs, Pork Belly Adobo and Don Ram's Chicken were a hit on the table.
Hideaway
Few things come close to the joy of being able to hang at this lovely cafe through the monsoons. With its mission to support indie artists through intimate gigs every Saturday to its undying love for that perfectly brewed coffee, the Hideaway folks are people after our own heart. The share the space with an affordable and sunny Bnb, Ikru, that also hosts art workshops every now and then. And oh, those get-togethers for paperback lovers. Need we say more?
Comments