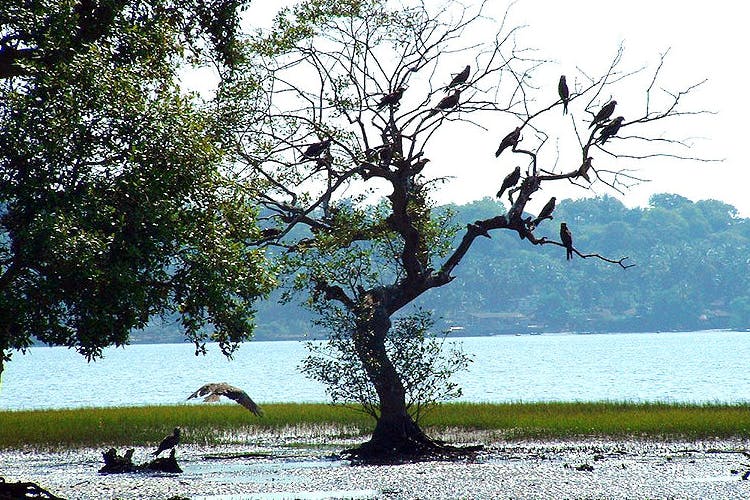 This Small Island In Goa Is A Haven For Amateur Bird-Watchers
Shortcut
Located on the sleepy island of Chorao on the Mandovi River, lies the Salim Ali Bird Sanctuary named after India's most prominent ornithologist Dr Salim Moizuddin Ali. This tiny piece of bird paradise is a haven for a large variety of birds.
How Do I Get There?
One needs to get on a ferry from either Pomburpa or Ribander to get to this quaint island. You can take your car, two wheeler or bicycle on the ferries and once there, just enjoy all that nature has to offer.
Great, Anything Else?
They have a well researched and maintained Nature Research Centre, for people to gain knowledge and a 3-storied watchtower for the real enthusiasts, who want to observe the birds at different levels. The best time of course to visit is in the winter, as that is when migratory birds are also in residence. And of course the early bird also gets the worm, or gets to see the birds eating their worms, and hence the Sanctuary is open from 6.00am to 6.00pm every day. Of course it is actually better to go during low tide, as then all wildlife is exposed and there is lots more to see about the eco system in the mangroves.
What's So Unique About It?
The mangrove marshes give you an insight in to the fragile eco-system that serve as the first line of defence against the sea. At the sanctuary, one can paddle around in their narrow canals, or just go walking around. There is also a boat service organized by the Forest Department, and there are various private companies that rent and take you on a bicycle tour there. It is open from 6.00am to 6.00 pm every day and one will get an opportunity to see various common and some unusual birds like purple herons, drogos, sandpipers, little bittern, black bittern, jack snipe to name a few. One can even see a few other animals like crocodiles, fiddler crabs that live in these marshy areas.
#LBBTip
Call Uday Mandrekar a private boatmen & guide, also known as the Birdman of Chorao on +91 98225 83127 who just leave you speechless with his knowledge and skills at spotting birds and wildlife.
More Information
National Parks & Wildlife Sanctuaries
Dr. Salim Ali Bird Sanctuary
Comments