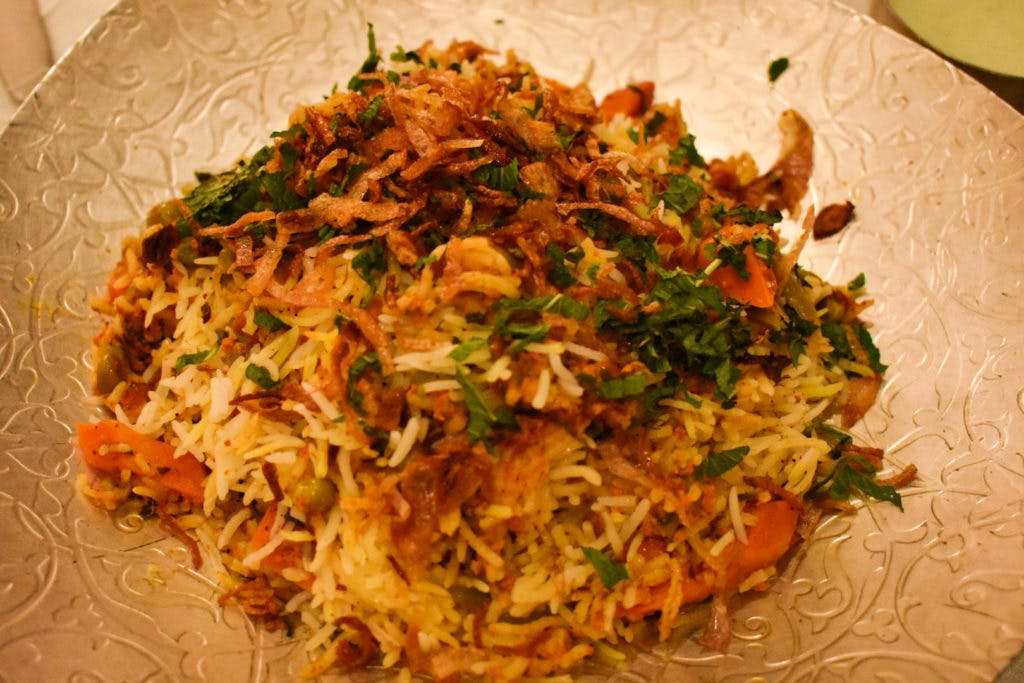 Biryani Is An Emotion: Your Ultimate Guide To The Best Biryanis In Hyderabad
If there is one dish that Hyderabadis hold close to their heart, it's biryani. Odes and eulogies can be written about the city's unshakeable love and faith in biryani. Every Hyderabadi has his/her favourite spot to have biryani. But from my experience, here's a list of the best biryani places in Hyderabad. How many of these have you tried?
Aish, The Park
For years now Aish, The Park has been upholding the tradition of Hyderabadi food. While most hotels nowadays have moved on to experimenting with dishes and making their versions of it, Aish still holds on to its old-world charm. Overlooking the majestic Hussain Sagar, dig into biryani which is as authentic as it can get. We also recommend their haleem which is served throughout the year, on a silver platter.
Bawarchi
Bawarchi on RTC 'X' Roads isn't a place where people look for ambience or comfort. It's the biryani that counts and I wouldn't mind wading through the crowds and waiting time for a plate of it. Their Chicken Biryani is a delight in the truest of senses.
Meridian Cafe & Restaurant
From the confluence of traffic at the busy Punjagutta Circle rises Meridian Café. What first started out (years ago) as a butcher shop has now transformed itself into one of the best places for dum biryani in the city. Many biryani connoisseurs in Hyderabad consider it the best biryani in Hyderabad. The meat-to-rice ratio, the spice level, and portion sizes make it a one-stop destination when you're in Punjagutta.
Hotel Shadab
Shadab
is an iconic restaurant that stands tall in the Old City and whether you love biryani or Irani chai, this one is a must-visit. Shadab Hotel is really popular among food lovers in Hyderabad and at any given time, it is bustling with over 200 people dining and a few of them waiting for a spot. Your waiting time is well worth the biryani and kebabs though. We swear by the Shadab Special Chicken Biryani and asked for it, which arrived quickly.
Shah Ghouse
With three outlets spread out across the city, Shah Ghouse continues with the trend of Hyderabadi cuisine and does a good job in maintaining it. Almost all of the hotels are packed and bustling with people, ordering in a Double Masala Biryani before continuing on with their day.
Hotel Sohail
The legacy of Hotel Sohail can be understood from the crowd who visit regularly from morning to dusk for a serving of its legendary biryani. They also serve the hard-to-find Marag (a spicy mutton soup).
Alpha Hotel
For many travellers who go through the busy Secunderabad Railway Station, Alpha serves as a quick stop to pick up a parcel of biryani for their relatives and friends back home. The biryani is delicious and the smell lingers around long after you've partaken of it. That itself is enough to bring a big smile around your face.
Cafe Bahar
Cafe Bahar — a once modest Irani cafe, now turned into a restaurant in Basheer Bagh is a popular biryani joint that has acquired a cult following amongst Hyderabadis. Ask for double masala in their Hyderabadi Dum Biryani, but don't settle just for that. Mutton Tikka Masala and Bheja Fry must be devoured with equal amounts of gusto.
Zaiqa-e-Hyderabad
Literally putting the Zaiqa back in Hyderabad, Zaiqa-e-Hyderabad has been dishing out the best traditional food that I've had in recent times in the city. With Chef Pradeep Khosla at the helm, the biryani is worth every morsel. The Shorba, Shikampuri Kebabs are the other delicacies that you can enjoy from the extensive Nizami Menu.
Paradise Biryani
Last but not the least we end with Paradise, a name that's synonymous with Hyderabadi biryani. With nearly 15 outlets in Hyderabad alone, the number of people going through their doors is massive. They've been instrumental in getting the word out all over the world. If there is one thing I've observed about the biryani in Paradise, it's that there is no matching the aroma with the ones from other Irani cafés.
Comments