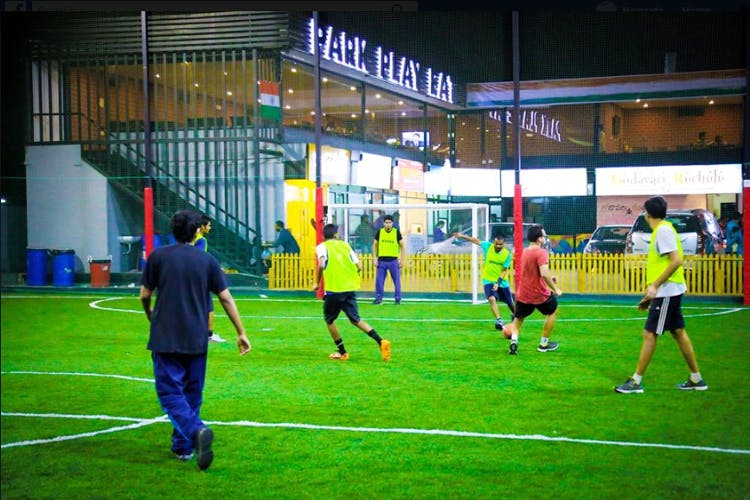 Football Crazies, Here Are The Best Football Turfs In Hyderabad For You To Play A Ball
Sports lovers, we know that the Summer heat, as well as some rainfall, have been hindering with your plans to play some ball in the streets, and that's why we think it's time to move to all-weather, artificial turfs. Call up your football fanatics of friends and gear up for a game at one of these turfs.
Turfside
Hyderabad's first and largest 6v6 football field (60×30 metres), Turfside Park on road no. 10 in Jubilee Hills is where you should go with your squad to sweat it out over a game of football. This place has state of the art facilities like flood lights, locker rooms, shower and more and it also offers football coaching for kids and adults. You can also enjoy a beer with your buddies after the game here.
Price: INR 2,300 (6am -4pm) and INR 3,000 (4pm – 12am)
Hotfut
This 90′-60′ pitch on the terrace of Whitehouse in Begumpet gives not only a netted enclosed area for you to play but also a 360-degree view of Hyderabad. Suitable for 5 a side game only, you can go to this arena that also has a Nike store, a cafe, locker rooms, and showers. If not for a game, you can simply go here to enjoy the magnificent view of the city.
Price: INR 1,200 (6am – 6pm on weekdays) INR 1,800 (6am – 4pm on weekends), INR 2,100 (6pm – 12am)
Astro Park
Football lovers in the city swear that this artificial turf in Film Nagar is one of the biggest and best there is. This is a 10-a-side field that can be converted to 5-a-side upon request. It has floodlights and boundary net and makes for an amazing location to play with a huge group.
Price: INR 2,200 (7am – 5pm) and INR 2,600 (5pm – 2am) for half ground, INR 4,400 (7am -5pm) and INR 5,200 (5pm – 2am) for full ground.
Cyclone Sports
Cyclone Sports in Tolichowki has a 6-a-side field which is well-lit with LED lights. It is a popular choice among the football community in Hyderabad who go here for matches, coaching, as well as for tournaments. A unique feature of this turf is that it has a spectator seating area at the top from where non-players can enjoy the game.
Price: INR 2,500

Turf Sports
Turf Sports in Inorbit Mall at Madhapur, is where you can go for a game of football or cricket. This rooftop turf has netted enclosure and facilities like changing rooms, LED lights, good quality astroturf, and parking -space too. So, whether it is a 5-a-side game of football or box cricket that you want to play, head to this 110×60 ft. turf and enjoy. There are no changing rooms available here, but since it is located on the rooftop of Inorbit mall, you can conveniently change there, and get great food from its food court too.
Price: INR 2,000
Comments