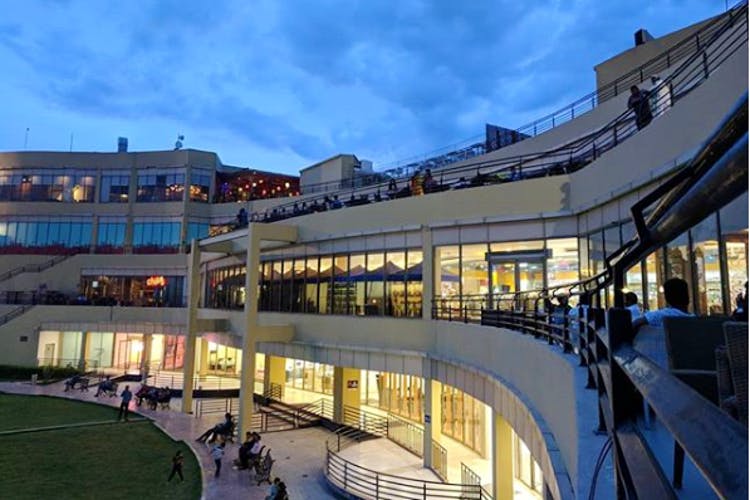 Eat, Play, Shop: You've Got To Check Out These Malls In Hyderabad
Come weekend and the whole of Hyderabad flocks to the malls for their dose of entertainment. With gaming zones, events and food courts, going to a shopping mall is more of a fun-filled day out than just shopping. Of course, we're not the ones to stop you from shopping, why stop there when you can do more? Relaxation to entertainment, here are the best malls in Hyderabad where you can hang with your fam or squad.
Forum Sujana Mall
Sure we love all the malls in the city, but Forum has our heart and there is a reason for it. Forever 21 and Zara are only open in this mall and this is where we go to fix our last minute shopping woes. While it has plenty of labels in its kitty, there is more to do here. The comic fanatic in us makes sure to hit up the Entertainment Store, while the walls of the mall (near the elevators) are absolutely Instagram-worthy because of Hoozinc. While the PVR multiplex has amazing screens with a great sound system here, the restaurants above the food courts aren't the ones to be left behind with an epic live music scene. For games and all that jazz, there is Smaash, which is far bigger than the Inorbit's outlet and you'll find a cheerful Mario (toy) welcoming you in. The food court here isn't great but has interesting kiosks like Ga Cibo, Keventers, Jarlie. Also, the lower ground floor is swamped with a flea-market sort-of thing where you can pick up pretty jhumkas, scarves etc. Kiddies might enjoy the toy train here or pick a mushy bear or two on the same floor.
City Centre Mall
Located in Banjara Hills, City Centre Mall is probably one of the first malls to have entered the city. Although it has mellowed down due to a stiff competition from the newer malls, people still throng here to visit restaurants like Sahib Sindh Sultan, Angeethi. For shopping, there are limited options like Chemistry, MAX, Globus, Mineral, Mufti but you might find some great deals going on throughout. Also, the bowling alley here is less crowded (and small), so if you're going with your squad, you might occupy the entire thing. Sounds exciting, doesn't it?
Inorbit Mall
Hyderabad went nuts when Inorbit Mall opened. Enter themed restaurants, walk-in wine mart, Dialogue in the dark, and the view of Durgam Cheruv. We've spent hours in the food court gawking at the Converse shoes in Planet Sports and indulged in sinful amounts of ice-cream from Creamstone or brownies and ice-cream from Cookie Man. Along with brands like Mark & Spencer, MAX, Global Desi, Fossil, Vero Moda, Only, Aeropostale, it also has a massive H&M. While your shopping is sorted, so is your entertainment with Smaaaash Gaming Arena. But when it comes to the multiplex, the PVR here isn't the greatest but you can make do for a movie or two.
Hyderabad Central Mall
If you are looking for shopping only and can do with minimal entertainment, Hyderabad Central Mall in Punjagutta has to be your best option. With stunning ethnic outfits from Neeru's, Indya, Biba, Manyavar, and several other labels, it also has a fine mix of western wear from Vero Moda, Mufti, ONLY, Forever New, Cover Story, Jack & Jones etc. The mall is well-classified for men, women, and kids. Plus, there is a plush waiting area on each floor. A new addition to the mall is its next-door neighbour that houses accessories by international labels only. We're talking about Aldo, Guess, Michael Kors, Gucci that share aisles with other designers. So, if you're thinking of splurging and pampering yourself or bae, now you know where to go.
GVK One Mall
Always bringing the best brands to its courtyard, GVK One Mall is the home to our favourites like Hard Rock Cafe, Forest Essentials, Khaan Saab, Satya Paul. With a fine mix of quirky stores like Chumbak and Poparazzi, it also has luxurious brands like Armani Exchange, Calvin & Klein etc. We go here for not just shopping, but also to watch movies at INOX which has brilliant screens (skip the popcorn, though). If you love 4D movies, you can catch one or two here. The food court and the fun zone here are attractions too. Located next to each other, you can either eat and play or treat yourself to goodness after playing with your squad.
Manjeera Mall
Manjeera Mall is a relatively new mall and is working its way up the ladder to bring some exciting brands. With the launch of Decathlon, let's just say that it has been successful so far. For shopping, your options are absolutely limited but if basics are what you are looking at, find yourself at Shopper's Stop. But why we love going to this mall is its theatre — Cinepolis. Along with good screens, coffee and popcorn that don't burn a hole in your pocket, the nachos here come with all you can eat sides, and we usually load up on generous amounts of salsa, sour cream. There is also a food court with the likes of Subway, Zomos, and other regular outlets.
Next Galleria Mall, Punjagutta
Now we are talking about one of the coolest malls in town. Enter awesome food court, great movie screens, and brands like Miniso, Nykaa, Voylla, Breya, Norfest Dhaba that we thoroughly love. PVR has a playhouse where watching kiddie movies is all the more fun with teddy bear seats. For shopping, the mall is still a work in progress and plenty of brands like Neerus, Kushals, The Body Shop, Forest Essentials, Fossil have already set shop. Plus, Busters — a gaming lounge is quite fun!
Sarath City Capital Mall
Sarath City Capital Mall in Kondapur claims to be India's largest mall, and although it is (barely) 15 days old, we had to check it out. The mall is huge, for one thing, but also mostly empty. But it promises us Sephora (Oh, how badly has Hyderabad been waiting for it), Wacoal, and so many brands that are coming to Hyderabad for the first along with crowd favourites like Levi's, Lee, Vans, The Body Shop, CeX, Converse. Plus, we're loving the AMB Cinemas.

Comments