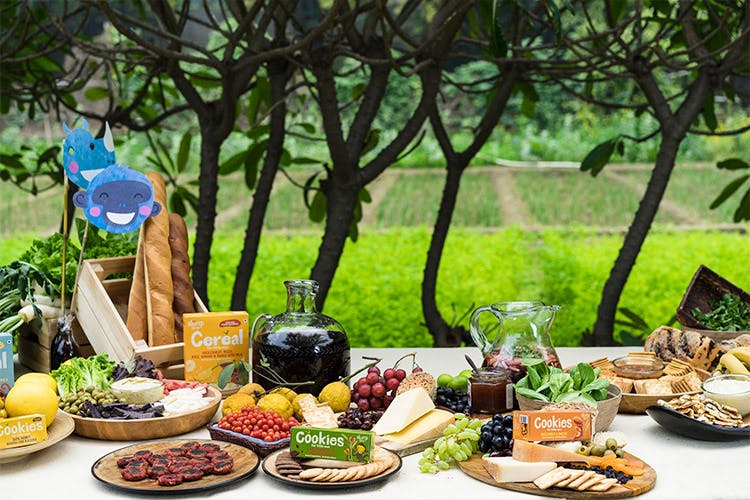 Picnic Baskets & Sunshine: Here's Where You Can Go Picnic In & Around Hyderabad
What's the first thing that comes to your mind when we say picnic? Is it food, fun, and good old childhood memories? It's never too late to pack your baskets with delicious tarts, muffins, and some more food and head to the best picnic spots in Hyderabad. Don't forget to take your Polaroid or camera along!
Nehru Zoological Park
For ages now, Nehru Zoological Park has been our favourite picnic spot. So much that we cannot stop going back to the zoo even now. With Jurrasic Park and a dedicated butterfly park, you cannot really get bored of our zoo. Plus, you can rent a bicycle and explore too. Say hello to the rare species of animals that come on an Animal Exchange program or chill with your gang under the cool shade of trees.
National Parks & Wildlife Sanctuaries
Mahavir Harina Vanasthali National Park
Mahavir Harina Vanasthali National Park was the Nizam's private hunting ground, and it has been preserved as a heritage park. Now, it's a popular national deer park and if you haven't checked into this park yet, we are judging you. But you can make up for it by heading out to this deer park in Vanasthalipuram. You can spot plenty of porcupines, Blackbucks, egrets, and birds too.

National Parks & Wildlife Sanctuaries
Botanical Gardens
Botanical Gardens, situated at the centre of the concrete urban jungle that is Gachibowli, is a jungle within itself. Flourished with horticulture, picnic spots, rock formations, and sprawling meadows, you really don't have to go too far to picnic. The moment you enter it, you'll be greeted by bougainvillea and natural rock formations. Walk a little further to discover clean gazettes and straw huts with humble seating.

Shamirpet Lake
This artificial lake built during the reign of the Nizam is not only a popular bird-watching spot but also a sight to sore eyes. Need more than just a lake to appease you? The Shamirpet Deer Park should straighten it out for you. This deciduous forest is home to not just several species of deer but also Blackbucks.

Golconda Fort
The Golconda Fort is one of the most iconic things to check out in Hyderabad. And what's a better way than going for a picnic? Pack your basket till its brim and climb up the fort to catch a stunning glimpse of the city. Sure you'll be surrounded by way too many people but the view can make up for it.

Gandipet Lake
Gandipet Lake (also known as Osman Sagar Lake), as we know, is a feast to one's eye in the evenings. Apart from being a photographer's paradise, it's a popular picnic spot, drawing crowds of all ages. So, if you want a lake view picnic, go here.

Nagasamundram Lake
Just a few kilometres away from Ananthagiri Hills in Vikarabad is a freshwater lake called Nagasamundram Lake. Also famously called as the Kotapally Kayaking Reservoir, you can go boating and kayaking here. Raft in the lake all you like and explore the surroundings when you're done. Several food stalls are set up around the lake and you can indulge in some roasted corn after a strenuous water activity. Or you can picnic at the lake by carrying your own snacks and eatables.

Pillalamarri
Ever picnic-ed under an 800-year-old banyan tree? Now is your chance to do it. Pillalamarri is an iconic 800-year-old banyan tree that's located in Mahbubnagar. While you cannot get an up-close view of the tree, we recommend checking out the tombs of Muslim Sufi saints, Jamal Hussain, and Kamal Hussain. Plus, there are sprawling gardens and zoo in the vicinity too.
Nagarjuna Sagar Dam
Nagarjuna Sagar Dam is about three-and-a-half hours drive from the city and makes for a short but amazing road trip. The dam offers a refreshing view, that makes photographers and Instagram addicts go nuts for. You can take a boat ride to Nagarjunakonda Island which has an archaeological museum and Buddhist artefacts for you to gawk at. You can either carry food from home and make it a conventional picnic.

Surendrapuri
Surendrapuri is a mythological theme park in Yadagirigutta and it has stunning statues of Hindu Gods and temples. Get lost amidst the vivid frames from Mahabharata and Ramayana or gawk at Gods and demons churn the ocean for the nectar of immortality at Kunda Satyanarayana Kaladhamam. After exploring the park, you can step out and settle under the cool shade of trees and make it a picnic. We did it and had totes fun!

Comments