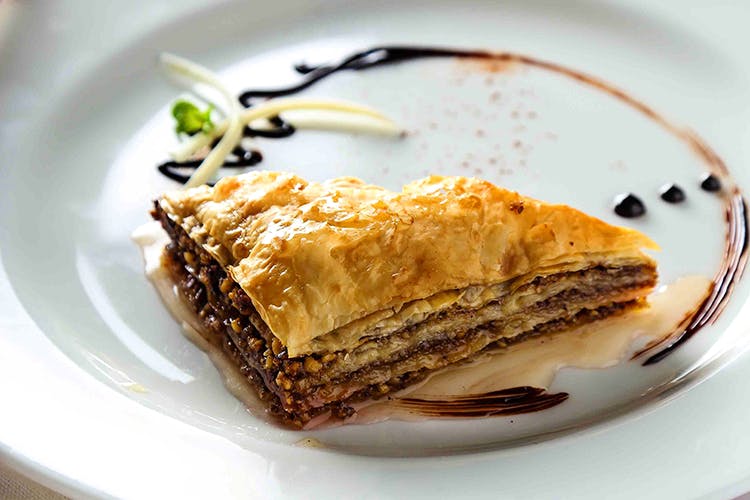 Heading To Banjara Hills? Baklava To Khao Soi, Here's Where You Have To Eat And Drink
When it comes to restaurants, Banjara Hills is a city to itself, with old and new restaurants opening every day. The perpetual conflict of where and what to eat prevails like a dark shadow over us. But we've had our share of grub in this area and here we are with a list of the best restaurants in Banjara Hills that you must try.
Biryaniwalla & Co
Located on the main road of Banjara Hills, Biryaniwallah & Co looks like a regular shawarma joint (From the outside) with hanging seekhs ready to grill meat for the day, but you enter and there is an elegant restaurant situation going on with gorgeous paper lights, elegant vintage-esque chairs. Try out Pattar Ka Gosht here which is so sublime and delicate and just charred right at the edges that we couldn't stop singing praises to it. From the vegetarian section, the paneer malai tikka was jumbo in portions and the paneer came marinated in a fiery spice mix and grilled to a melt. Be sure to end your meal with a bowl or two of khubani ka meetha and gajar ka halwa.
Rajdhani Thali
Bringing you the best of Rajasthani and Gujrathi dishes together, Rajdhani is an only thali restaurant. You'll be fed and pampered like a king at this restaurant which scores high on authentic experiences and great food. Indulge in the dal baati churma, dahi vada, and different types of roti made from jowar, bajra etc. Relish the dal and aloo curries or the khichdi and kadhi. There is so much more that keep arriving in your plate even if you say no. End your meal with a glass of buttermilk or malpua and other desserts served with your thali. Although the thali is priced at INR 490, on Tuesdays, you can grab it at INR 250.
Gourmet Baklava
At Gourmet Baklava, the French-inspired creamy white doors and windows welcome you into a sweet-smelling world, far removed from the world outside. Treat yourself to a ginormous amount of baklava varieties which is a dessert made of layers of filo and filled with chopped nuts is held together by honey or sugar syrup. Or try out Cheese Kunafa, a filo pastry dough filled with cheese and cream and soaked through with rosewater and syrup. But don't miss the Turkish coffee here — a strong black coffee, served in a cezve, a coffee pot specifically designed for Turkish coffee, along with Bazarik, cookies topped with sesame seeds.
Haiku
Designed by Sona Reddy — a Hyderabadi designer, Haiku is a charming restaurant with peachy and dainty decor accents. Patterned walls and subtle lighting make this place refreshing. After you're done admiring the space, check out the menu. The Khao Soi (Or the Burmese Khau Suey) is to die for, and it's a meal in itself and if you're sharing between 2-3 people, it can be just filling. If you love sticky rice, Haiku's range of fried rice will keep you satiated. Also, the Boba Tea at Haiku is the best in town, so don't forget to order one.
Bikanervala
This is no fuss and frills sort of restaurant that is mostly crowded every evening. Although it opens for breakfast 7am onwards, we suggest hitting it up for its killer chaat dishes. We go back time and again for our share of dahi bhalla which is well made with succulent chunks of warm bhalla dipped in the cold curd. Craving more? The chole bhature and laccha tokri cannot be missed then.
Chef Imam's Steak House
Meat lovers, dash straight to Chef Imam's Steak House to dine on those juicy, beefy steaks. We recommend Caper n Cheese Steak which is also the most popular one at this steakhouse. The grilled chicken is topped with cheese and is served with a corncob, veggies, and mashed potato. The mash is buttery and we love it, but it's the chargrilled chicken that gets a nod from us.
Coco's Bar & Grill
Designed as a shack that reminds you of Goa, Coco's Bar & Grill is known for its chill scenes and live music. This rooftop bar gets it finger food like Chilli Garlic Fish and Pepper Chicken right. Try out its signature cocktails like Coco-tails, a gin (Or rum or vodka) based cocktail that is served in a coconut (Proper Summer vibes this is) or simply settle for a classic rum & coke and groove into the music. Such sorted life!
Euphoria
Euphoria Bakery has been sweeping us off our feet with its brownies and now, it has a new patisserie in Banjara Hills. You are going to stuff your face with more than just brownies for there's carrot cake, blueberry cheesecake, and more than what you've been waiting for Euphoria to bake. Euphoria Bakery, run by Anita & Faisal Tayabali, in Banjara Hills is for those of you who love catching up with their squad over desserts or looking for a quaint place for an after-dinner date. Smacked right in the centre is a massive table that displays all the desserts of the day — Caramel Brownie Cake or Fig Honey Cake — what's it going to be? Whatever is your choice, you're going to polish every slice to bits and crumbs.

Burgasm
It is said that we all need to make time for burgers once in a while and we headed to Burgasm in Banjara Hills to say aye, aye! This burger joint has simple outdoor seating with wooden tables and chairs. While it's not big on ambience, you can eat up delicious and meaty burgers along with gooey milkshakes. Ask for a Grim Reaper Milkshake (so thick and chocolatey) and start your Burgasm-ic experience with crisp Onion Rings or Chimichanga (just like Deadpool). We tried the BBQ Kluck Kluck Burger which is stuffed with jalapenos, cheese, onion rings (whaaaat) and properly minced chicken patty. Comfort food? Totally.

Comments