The information in this post might be outdated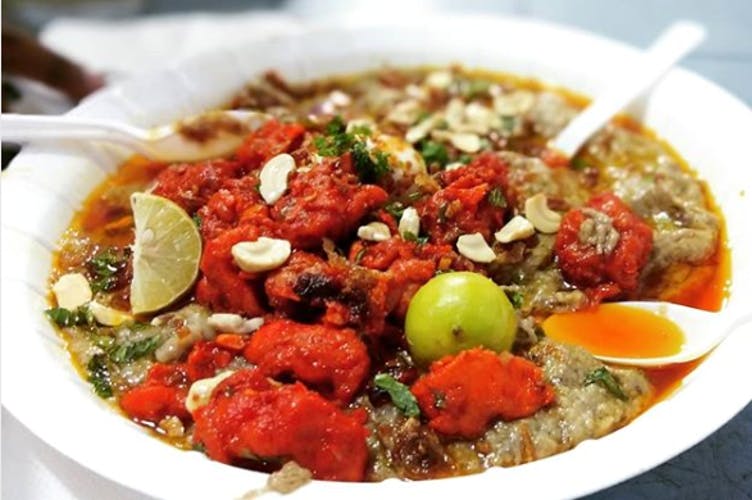 Head To This Iconic Irani Cafe In Masab Tank For Haleem With Chicken 65 Or Zabaan
Shortcut
Located in Masab Tank, Cafe 555 is a simple Irani cafe that has been whipping delicious haleem for years. We heart this one for its delicious toppings.
What Makes It Awesome
A simple meal of relishing haleem is a jostling affair at Cafe 555. This 50-year-old Irani cafe is usually crowded but the Ramadan month is when it attracts people from every possible corner of the city. As the clock strikes 6pm, food lovers gather at Cafe 555's haleem stall awaiting their turn to grab some gooey goodness. While Pista House and Shah Ghouse are popular for their haleem, Cafe 555 is a league of its own. This is mostly because they add a twist of their own to the otherwise traditional recipe. Plus, the toppings also make a great difference to the flavour.
We hit up the cafe one evening and cut through the crowd (and chaos) to get ourselves a dose of this haleem. We honestly wanted to check what the deal was all about. On striking a conversation with the nice human behind the counter, we understood that they add rose petals, shahi jeera, saffron along with the traditional spices. In addition to Irani haleem, this cafe makes Special Haleem which has a full goat tongue and topped with chicken 65 and a slice of boiled egg. Like the regular dish, this one too comes with generous portions of ghee, cashew nuts, pistachio, and deep fried onions. We added a dash of lime to ours and relished the hot meal in minutes. What we really enjoyed in this dish is the surprise of flavours. Since haleem tends to get a little bland towards the end, the right mix of chicken and egg keep the dish exciting till the last bite.
Comments