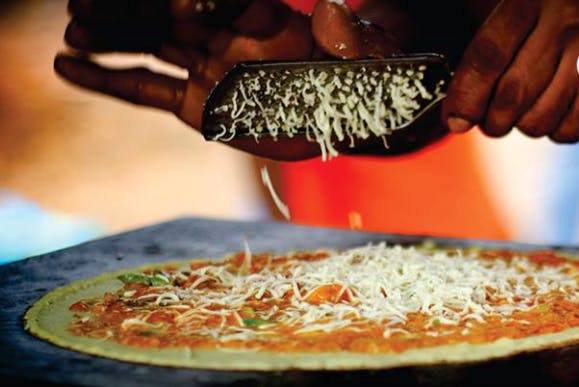 Chicken Pizza Dosa & Ghee Idlis: The Food Truck Action In Madhapur Starts Post 9pm
Between Karachi Bakery and Pace Hospitals, on Madhapur Main Road, lies a 300-metre stretch occupied by a neat line of food trucks. Serving street food from around the country while remaining faithful to the Hyderabadi palate, it is operational primarily from 9 pm to 1 am. We combed the length of the street, eating whatever caught our eye or seemed the most popular. We discovered delight, disappointment, and shared excitement for the trucks we haven't tried yet.
So, forgive us if we only make a passing remark on the hot dogs, chaat, parathas, Chinese fast-food, momos, biryani (typical), and other kinds of food that the street has to offer.
Chicken Pizza Dosa At Attarinti Dosa
I'm going to say it right off the bat, if there's one thing you're going to come back to this street for, it's Attarinti's Chicken Pizza Dosa (INR 150). Quality matters, and that's why this truck takes pole position. Minced chicken across a slender dosa, cradling a garnish of fresh spring onions, mint, capsicum, corn, and celery, blanketed by copious amounts of cheese. Cut into four slices. A rush to the head. The ingredients get along like old friends, and the chicken makes its presence felt here. The chutneys do just fine, although the dosa is quite the wallop by itself. Too bad their restaurant had to close, but we hope they keep trucking on.
Ghee Idlis At Idly.com
Two unsurprising things about this — great idlis and patronage to match. The crowd never once thinned at this all-vegetarian truck (we were there for a couple of hours.). I'm guessing it's the warm, fuzzy feeling, of sinking your teeth into a hot idly dripping with ghee, plus the gentle stab and minty coolness of the allam and coconut chutneys. Tastes like Nostalgia. For INR 35 a plate, count us in. Also, the Karam Dosa here (spice alert!) isn't for the sensitive tongue, but it won't faze you if you've been around the block a few times.
Tandoori Fish at SFC (The 'S' Can Stand For Anything)
Not to be confused with the other SFCs in the city (picture Colonel Sanders rolling in his grave), this is more 'stall' than 'truck' but bears mentioning because of the menu. Chicken and Fish in various avatars — deep fried, crispy fried, pakodas, tandoori — basically, shoestring-budget snacks for the drunk and hungry. The prices range from INR 60 to INR 150, and most dishes come with a chutney and a salad.
We got onto the Chicken Tikka bandwagon, paired with an oddly sweet mayonnaise for some reason. The skewer hosted the chicken along with onions, mint leaves, cucumber, and capsicum, with a squeeze of lime. For INR 60, it's a hard thing to pass up. No Michelin Stars coming for it, but it's reliably tasty street food. The Kaala Meen (Indian Salmon), grilled, with half a spice rack's worth of seasoning, sells out pretty quickly here. The fish can get a bit dry, but if you can get past that, it's a pop of flavour that might pull you back for second helpings.
Kesar Faluda at Balaji Ice Cream and Kulfi
These guys know what they're doing. After our blitz of dinner, the Kesar Faluda at Balaji (INR 60) is just what the M.D ordered. Pistachio, Chocolate and Vanilla ice creams, floating beside a sprinkle of assorted nuts, jelly, vermicelli — served cold. There was a lightness that pervaded the whole dessert, and a restraint on the general sweetness of it. We're definitely trying out the rest of the faludas soon.
Pro-Tip
Finding parking space during rush hour can get difficult, so you're better off visiting when traffic isn't at its peak.
Comments