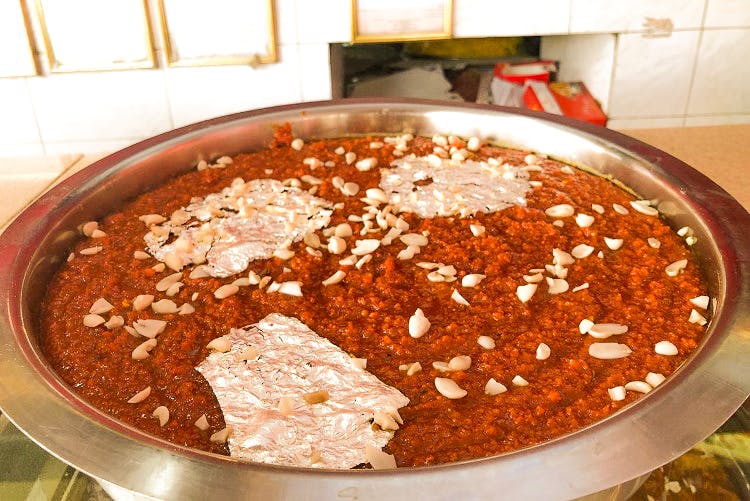 This Iconic Sweet Shop Was Nizam's Favourite. Checked It Out Yet?
Shortcut
Want to taste Turkish sweets that have been royal favourites? Head to Hameedi Confectioners, a 105-year-old-shop in Mozamjahi Market and tuck into some.

What Makes It Awesome
Hameedi Confectioners began as only a stall in 1913, when a 15-year-old Turkish boy, Muhammed Hussain, started selling sweetmeats. His special dish, the Jouzi Halwa was such a hit among people that the seventh Nizam heard of it and visited the store to try it out. He loved the halwa to such an extent that he sent a letter with the royal seal to Hussain praising his sweets (Even today, this letter is on display at the store). Made out of milk, saffron, ghee, nutmeg, sugar, dry fruits, and some secret spices from Afghanistan, the Jouzi Halwa is heavenly. It is available in two forms — the regular Jouzi Halwa (INR 500 per kg), and the special Jouzi Halwa made with more saffron and ghee (NR 700 per kg). These are served with a silver foil and almond garnish, and each has a unique taste to it. It is quite filling too. We loved the special version better, but that's just us! However, both versions were something that would take a while to settle onto your taste buds. Once they do, you will enjoy the taste of each ingredient. The halwa feels moist and you can taste the ghee quite strongly. Apart from the famous Jouzi Halwa, this place also makes sweetmeats like Ashrafi Sweet, which is another of their signature dishes. These yummy sweets are not just eaten fondly by visitors at the store but are requested at big hotels, marriages, and functions too.
Comments