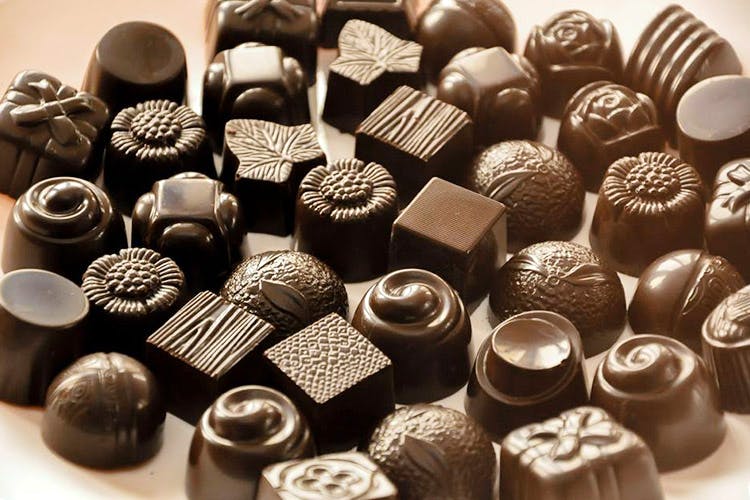 Lindor To Ferrero Rocher: Hoard Imported Chocolates At This Wholesale Store
Shortcut
Love imported confectionary but don't have the budget to stock up on them? We just found you a store that answers all your Hershey's prayers.
What Makes It Awesome
Located in the crowded complex of Aziz Plaza in Begum Bazaar, Mangal Mani Traders is a wholesale store that sells all things imported. Whether you are looking for confectionery or nibbles, this store has it all. When we walked up to it, we thought it was just any other store, but on taking a closer look, we found plenty of sweet treasures. Although a tiny shop, this 5-year-old store is well-stocked with items. Plus, there is a massive variety of sour candies, popsicles etc. and if you are looking for grabbing these (on budget prices) for your kiddie's birthday, this is your ultimate destination. While you can pick box sets here, you can also buy them individually. That just sealed the deal for us.
The boxes of Ferrero Rocher and Pringles on the display dragged us into the store. But we found more interesting things like cartoon sprays (party enthusiast, anyone?), Lego superhero shaped candies, lipstick chocolates, and more inside. While a box of Ferrero Rocher (a box of 6) would cost INR 140 in a supermarket, this store sells it at INR 120. We also found nibbles like Pringles (originally INR 198) at INR 130, Hershey's chocolate syrup, olives, and pickles at wholesale prices. If you want to stock up on them, you can get them from here. The sheer variety itself is so good at this store, that you amidst Kisses, Snickers, Mars, and Hershey's, you never know which new chocolates you'll discover.
Pro-Tip
The good folks behind the counter are super communicative and help you with deciding not just the flavours but also the number of candies or nibbles (boxes, of course) you'd need if you're throwing a house party.

Comments