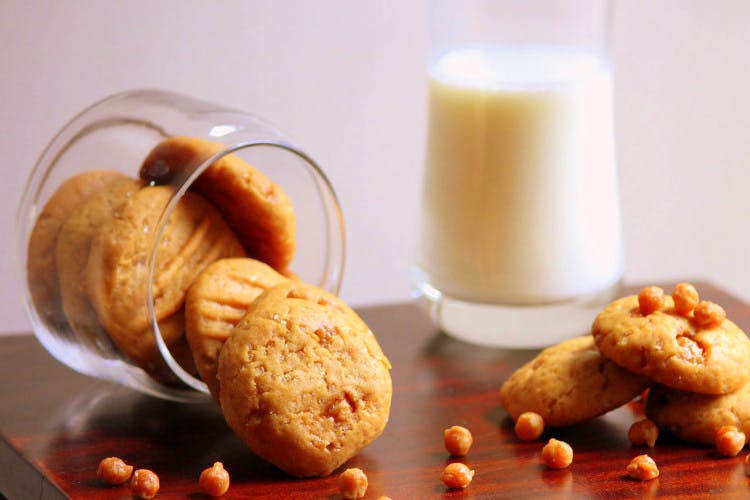 Pecan Pie To Butterscotch Cookies: This Home Baker Whips Delicious & Pocket-Friendly Desserts
Shortcut
The Dessert Box, located in Banjara Hills, is a treasure trove of sweet treats. Offering nearly 20 varieties including brownies, cupcakes, cookies, and cheesecakes, this should be your fix for desserts.
What Makes It Awesome
When Fayrouz Zaidi moved to Hyderabad from Lucknow, she scouted good desserts in Hyderabad. As someone with a solid sweet tooth, she relished desserts in town but took up baking as a profession only because the city had no choices in Therapeutic Recreation (her major). Luckily for us, we're finding therapy in her desserts. With a desire to make some desserts and recreate classics, she started with baking her mum's recipe — classic chocolate cake. After that, she began to bake more and started receiving orders from close friends and acquaintances. That's how The Dessert Box started. Packing desserts in tiny golden boxes, this is a takeaway/delivery joint as of now, but Fayrouz hopes to open a cafe in future.
Whether you are in the mood for brownies or loaves, there is a little something to appease every palate. We took a bite into Banoffee Parfait — we loved its creamy texture and how the taste of banana wasn't too overpowering. We tried the Lindt Brownies (an interesting take on dark chocolate brownies) and relished them. While the outside layer was flaky and crumbly, the inside was gooey.
We grabbed some Lemon Cupcakes and Banana Chocochip Muffin — the muffin is a classic and stood out for us. But here's what took the glorious cake — the Butterscotch Cookies, Pecan Pie (which you might rarely find in Hyderabad), and Date Walnut Loaf (perfect tea-time nibble). We couldn't stop singing praises for the crisp cookies and the gooey Pecan Pie. Also if there are two desserts that will keep taking us back to The Dessert Box, it's these two. What we are also loving is that these desserts have no added preservatives.
What Could Be Better
The lemon cupcake was a bit too bitter (and yet too sugary) for our taste, and it can be worked around.

Pro-Tip
To get a taste of these desserts, you can either get on Zomato or Swiggy (depending upon your location) or give a call to place an order in advance and pick it up. Plus, you can also get on Snackishq to grab some of their dry goodies like loaves and cookies (Sorry you don't have the pies or parfaits here).