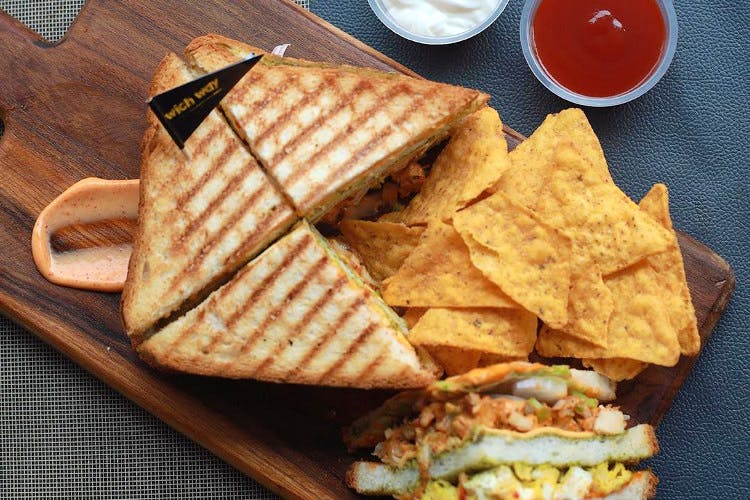 Instagram Worthy Wall Art To Delicious Sandwiches, This Cafe Has All Chill Vibes
Shortcut
Wondering which way to go for some delicious sandwiches in town? Look no further than Wich Way for breakfast, lunch, and dinner too.
What Makes It Awesome
Wich Way in Jubilee Hills looks like a toy-town café from the outside, but is quite a large space with outdoor seating, a takeaway counter, and a private seating room too. The decor is minimal but quirky, with bicycle wheels at the entrance spelling food, and black walls with humorous quotes. Being quite spacious, it is not often crowded so you can work out of here, take bae here for a date or chill with your friends too. The outdoor seating is fancy with portraits of our favourite Game Of Thrones characters done up on the walls. From Arya Stark to Tyrion Lannister, the charcoal drawings add a dash of pop culture and appeal to a younger crowd.
We ordered Cheese Chilli Nachos and their signature Insane Bombay Sandwich for lunch, which took a while to arrive but were well-plated and hot. The nachos were served with a mayo dip that left us licking our fingers, and the sandwich, served in four pieces was grilled to perfection and oh-so-filling. Although they have burgers, pizzas, panini subs, garlic bread and beverages, what we were impressed by was their all-day breakfast menu. No matter what time of the day it is — if you're craving a Cheesy Gooey Omelette, or a Desi Breakfast of spicy masala omelette served with hot chicken, sausage, and toasted bread, you can totally have it here.
Pro-Tip
Though this place has sundaes and cold beverages, you can also get yourself extravagant unicorn desserts from Eat Confetti which is right next door. Just place the order before you enter Wich Way, and the dessert will be served to you at your table. Don't forget to take those insta worthy food shots, we say!
Comments