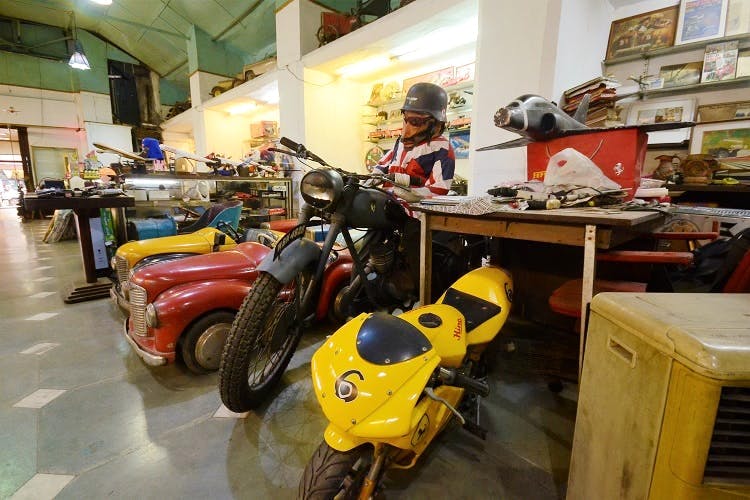 This Iconic 64-Yr-Old Shop Stocks The Best Aeromodelling Kits, Action Figures, Old Coins, RC Planes & More
Shortcut
From balsa wood airplane kits to old coins and stamps, the India Hobby Centre brings out the kid in us all. It is also a must-stop if you love collectibles.
What Makes It Awesome
A unique toy shop that was founded in 1954. this place on Russell Street has a collection of carefully chosen items that will delight children and adults alike. Earlier some of their stock of imported hobby sets came from from the UK. The Hobby Centre had many more outlets in cities like Mumbai, Bengaluru, Delhi, Chennai, and Hyderabad. All of these have closed down, the branch here is the last remaining one.
There's much to see here – you will be lucky if you send less than an hour perusing the toys, the vintage stuff, as well as the many framed posters and old magazines on aeromodelling and RC planes. Kolkata's community of aeromodellers throng this place. You'll love the balsa wood aeromodellig kits (basic ones to catapult glider kits, and free flight models).
You can also repair your RC planes here or pick up a new one and head to the Behala Air Show held in the first week of December every year. The dinky car models sold here are quite good.
Stamp and coin collectors will love the place – they sell a variety of stamps, coins, currency notes and first-day covers. But what really catches your eye are the gorgeous vintage pedal cars, most over half a century old including an Austin J40, a Sunbeam Talbot, Rolls-Royce Phantom, Buick 8, Cadillacs, and a Morris Garage's 'A' model.
What Could Be Better
They had a great collection of balsa wood assembly air kits, but these seem to be less prolific lately. We found them much more interesting than the RC airplane models.
Pro Tip
Also look out for their collection of figures – we loved the ones from Tintin (especially Professor Calculus, and the twins)! They have the usual action heroes as well, and one of Elvis Presley. At times we've also found those retro Airfix assembling kits with Spitfires and Lancaster bombers!
It has an attached ice-cream parlour and restaurant that serves snacks so you can sit down and peruse your new acquisition with a milkshake and burger.

Comments