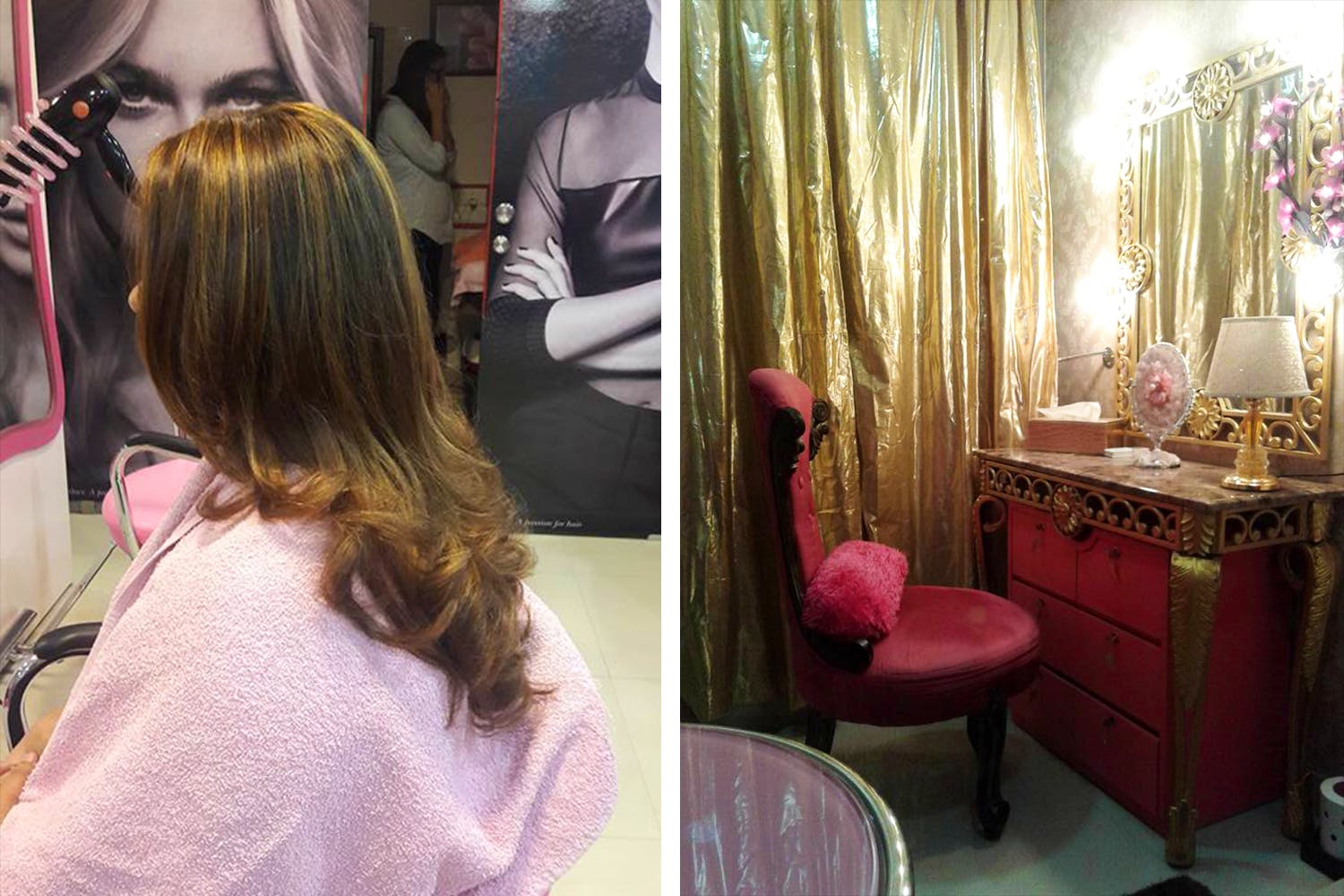 All-Pink Decor & Elvis: This Cute Salon Reminded Us Of A Paris Boudoir
Shortcut
Want a makeover like Anne Hathaway in Princess Diaries? Head over to Wendy's Salon and Spa for all the princessy vibes.
Pretty In Pink
There, we said it: Wendy's is probably the cutest, most adorable salon we have come across yet. Walk up the pink carpeted stairs and go inside, and you'll immediately feel like a princess from a Disney movie! Or as if you are in a retro boudoir in Paris. All pink decor? Check. Velvet faux fur mats? Check. Dramatic mirrors framed with light bulbs? Check. Candy-colored nail bar and uber chic Marilyn Monroe couch? Double check! Wendy's will make you feel like you have been transported to a fairytale candyland.
And did we mention they play Elvis Presley numbers on loop? Not just Elvis, if owner Wendy Ann feels you'll enjoy Dua Lipa more, or the Scorpions, she will play that too.
Say goodbye to judgmental salon aunties because Ms. Wendy is the beauty guru we have all been waiting for. She will chat with you, click selfies with you and pamper you until you start feeling giddy! You will leave feeling like a #kweeen.
It's a great place for pamper sessions or dates with your BFF. The soothing ambiance and Ms. Reynolds' charm is almost like a wonderland isolated from the outside world. No car horns or crying babies.
What's The Pocket Pinch?
A blow dry will set you back by INR 700, while a haircut (with shampoo) will cost you INR 1,200. A trim, however, will cost you INR 800. Oh, and FYI, here you'll get hair extensions for just INR 300! One of their specialties is their Moroccan Oil Hair Spa which starts from INR 2,000. You can also opt for their Moroccan Oil Shampoo package (with conditioner or mask) which starts from INR 900.
If you want a mani-pedi, the prices start from INR 100 for just nail polish (200 if you want them to be cut and filed as well), and goes up to INR 1,200 for the crystal strawberry spa (a one hour mani-pedi spa).
Looking to splurge and pamper yourself? Check out Wendy's Pamper Packages – their facial and hair spa package for INR 2,500 or their 45-minute Swedish or Aroma body massage (with hot shower) for INR 1,800! The basic facial (bleach, massage and face pack) would set you back by 1,500 bucks.
Their specialty is the Italian Rica wax. It's INR 300 for under arms and goes up to INR 1,500 for Brazilian. Best part? The beeswax and mineral salts will not rough out your skin the way other waxes do.
Anything Else?
Sick and tired of same old salons with delayed appointments and judgmental cashier aunties? Wendy's has to be your go-to place.
It stays open from 10am to 7.30pm on all days except Tuesday.
Comments