The information in this post might be outdated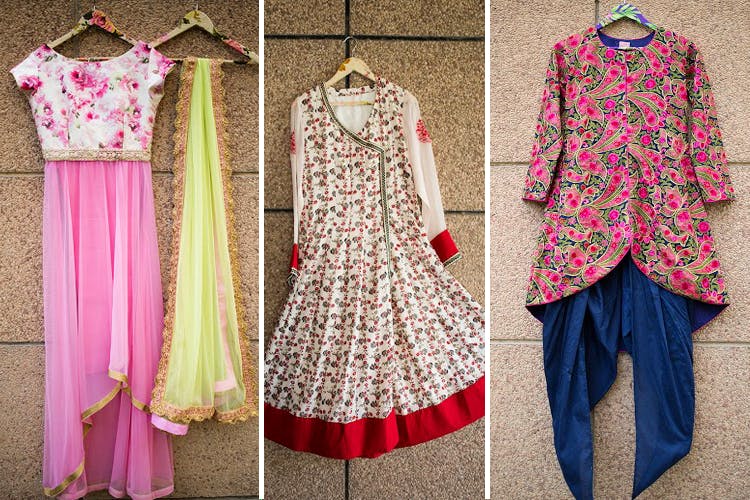 Fashion Upgrade: These Pop-Ups Are A Must-Visit To Stay On Top Of The Latest Trends
Spring/summer is so yesterday, fall fashion has already set in. How are you keeping up? If you're still trying to catch up and FOMO is setting in, then hit up these fashion pop-ups to keep on top of your style game.
AM:PM Autumn/Winter Trunk Show
LFW regulars, Ankur and Priyanka Modi (aka, AM:PM) are coming to town with their exclusive autumn/winter collection. Gear up for a serious fashion upgrade and a surprise because this new collection is tightly gift wrapped as a secret (we got news, that you can expect some indigos in the collection, though). Back with their trunk show in Kolkata, AM:PM's new edit will of course feature its staples of lehengas, tunics, dresses, jackets and kurtas. So, save September 1 on your calendar and hit Taj Bengal between 10am-7pm with your cards!
Pause For A Cause
Like every year, Pause For A Cause will be back very soon with their two-day pop up of homegrown fashion brands and handcrafted goods. A great place to pick indigenous crafts, handloom and handcrafted products, this one will be a good refresher on ethnic and traditional fashion. Also, expect organic lifestyle and personal care products to be on the stalls here. Remember to be at Krishna Niwas on September 5-6 between 11:30am-7pm to check out the collection.
Chor Bazar
Oberoi Grand's annual fashion pop-up Chor Bazar - an exclusive pop-up of 2am Store - will feature bags of every style and shape you can think of. Slings, totes, travel bags, laptop bags, lunch bags, backpacks, wallets, satchels and much more! Take your pick from leather bags or leather and canvas or even embroidery and leather bags to amp up your style. Prices start from INR 2,000. You must not miss this event at Oberoi Grand between September 6-7 (11am-8pm).
Nicobar's Autumn Edit
Our fave designer brand Nicobar is also coming back this September to wow us with an unconventional autumn and festive collection. Inspired by Sri Lanka, Nicobar's new collection will feature resplendent autumn colours and happy festive fervour. The collection will feature a palette of fuchsia, cream and verdant green which are punctuated with cool grey, deep indigo and bright Portuguese embroidery. There'll also be the new jewellery collection Talisman on display. Save the date and be sure to hit Space 9/2 between September 7-9 to stock up on some fresh looks for the upcoming festive season.
Nouveaau
Taj Bengal's annual fashion, lifestyle and art pop-up is also gearing up to open trunk. It's some time later though - October 23. Though Pujo would be over by then, a slew of other festivals will be around the corner as will the wedding season. A one-stop shopping destination, this single-day affair will showcase everything from apparel and art to lifestyle products and accessories. So bookmark this in your calendar.
Comments