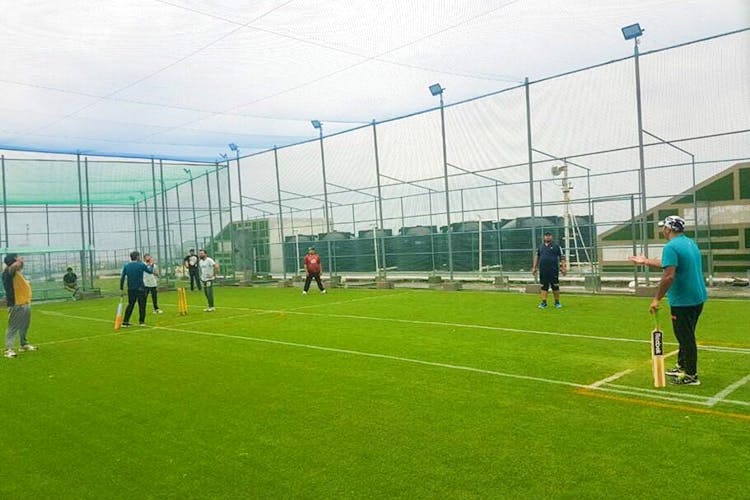 You Can Now Play Football & Cricket On A Rooftop At Midnight: Here's Where
Shortcut
Turf Street in Salt Lake is a rooftop turf where you can test your football and cricket skills – and they're open from 6 am until midnight!
Post-Work Workout
Started in 2017, Turf Street is an eight-floor rooftop arena that's got both a cricket pitch and a football ground. The artificial turf football field is where you can play four-a-side or even at a squeeze five-a-side football.
Turf Street is open every day from 6 am until midnight – so you can literally play all day every day. Since it's paved with artificial turf (which is basically injury-free), it doesn't matter if you're 6 or 60 – you can all play! What's even more awesome? There's a dugout for the players and a 20-seater gallery so your buddies can come and cheer you on. The changing rooms and washrooms are in the building below and really easy to access. They'll even provide you with all the basic accessories like footballs, cricket balls and bats so you don't have to lug around your own equipment.
Starving and parched after an hour of running around? Head to the Santa Delivers kiosks for ready-to-eat food (fried included!), healthy food and refreshing drinks.
For an hour of football, the cost in the daytime is INR 1,200 and INR 1,500 in the evening with the lights. The cricket ground comes for INR 2,000 with the lights and INR 1,700 without lights. Office-goers, rejoice as the hourly rent for weekdays and weekends is the same. You can book slots for an hour but they're even open to booking for parties, corporate events, tournaments and more!
Pro-Tip
You should ideally book a day in advance (the weekends tend to fill up fast).

Comments