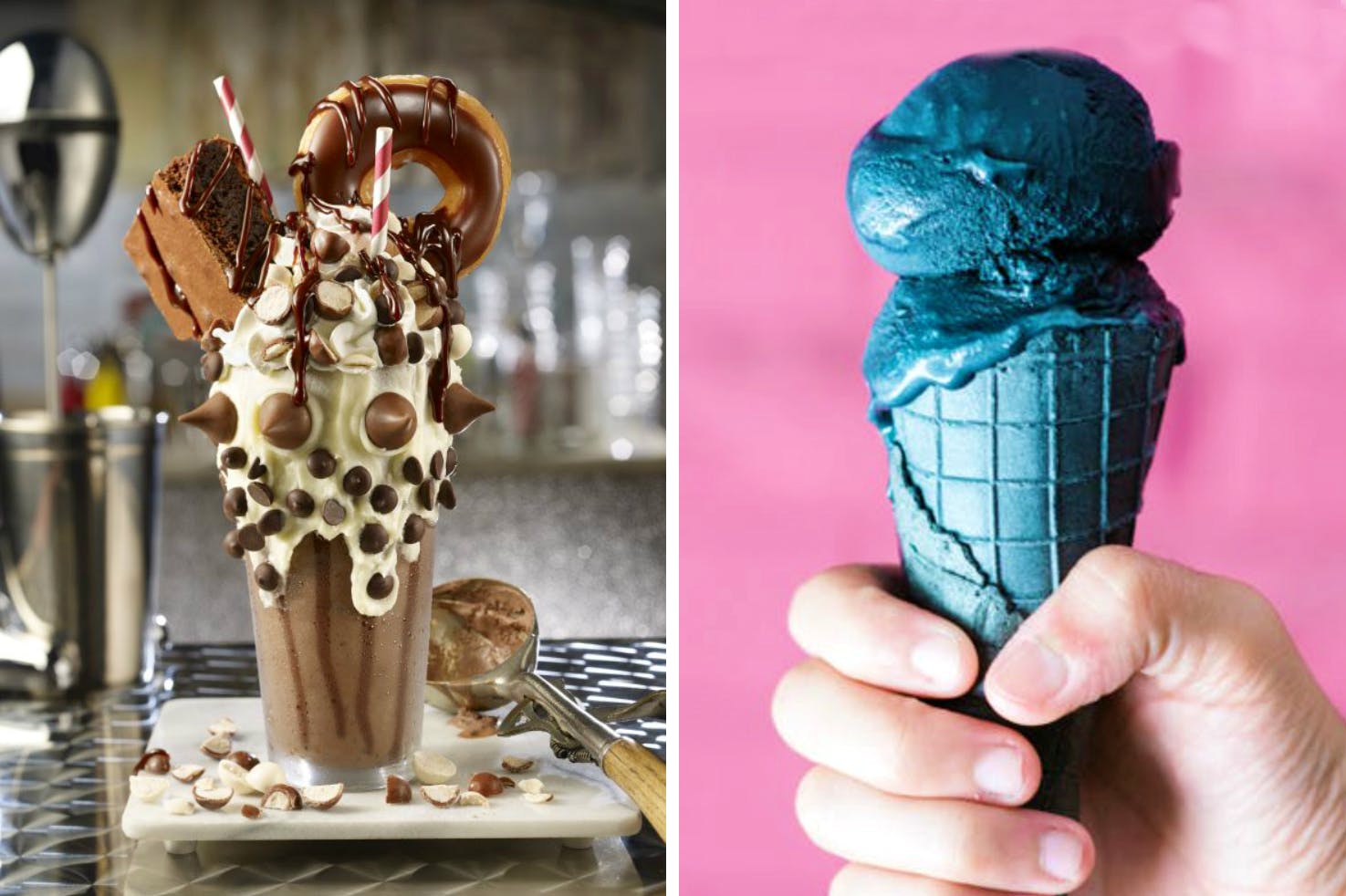 Freakshakes To Goth Ice-Cream: Insta-Inspired Dessert Trends You Must Try
We present to you the creme de la creme of Instagram-inspired food trends that have taken our sweet tooth by storm! They are gorgeous to look at and have been rated a 100 by our taste buds.
Get Freaky With Freakshakes
The word 'freak' isn't an insult anymore! Say goodbye to unsettling high school memories by digging into a jar of freaky goodness. Head to Brickwood for woodfire baked freakshakes with a mild, smokey flavour. They made quite the scene last year with their line of shakes and are back with a Candy Overload freakshake (INR 350) which has us going bonkers!
TGIF has a fantastic Whole Lotta Choc-Co-Lat 'Franken' Shake (INR 720) that is topped with monstrous amounts of whipped cream, brownies, Hershey's kisses, and a donut with chocolate sauce. You'll need a gang to deal with this one!
Matargashti by FRIENDS' shake (INR 350) comes decorated with Little Hearts biscuits (we loved munching on these while growing up!)
Don't forget to check out Scoop's Big Boy (INR 270) which has Ferrero Rochers, brownie, whipped cream, gems and is finished off with wafer sticks and a bright red cherry!
The freakshake at Mavericks Cafe is called Death by Sugar (INR 249) – it has chocolate ganache and marshmallows. The Street at Park also has a few good lookin' ones.
Goth Days With Activated Charcoal Ice-Cream
We're still not quite over black-coloured food (matches the colour of our souls)! Instagram's seen black burger buns, noodles painted black with squid ink, and our favourite – black ice-cream! We spotted Mamma Mia's black Vanilla Stardust ice-cream (INR 89+ per scoop) running out super fast at their outlets!
Want more activated charcoal magic? Click here.
Freeze Your Noggin With Nitrogen Ice-Cream
When you add the fog-forming liquid nitrogen to our ice-cream, it makes it even more creamy. And more dramatic. At N2ICREAM, there's a smorgasbord of flavours to choose from and their speciality is adding nitrogen to it. The Benarasi Paan's been attracting a lot of attention here.
On A Roll
It's quite the show at Frollz when you wait for your order to be prepped – pour, smash, spread, roll – and right in front of your eyes you will see the ice-cream rolls come to life. The Kiwi Blast (INR 145) is perfect for hot days while Choco Lust (INR 165) is the go-to option for chocolate lovers.
Rainbows & Unicorns
If people can get their hair dyed seven colours, a rainbow sponge cake is a piece of cake (sorry not sorry!). Our last contender is the seven layered rainbow cake, a visual delight. We love the ones made at Paris Cafe – priced at INR 140 per slice, the cake is moist but we demand the slice be made bigger.
Coming to the mythical and glamorous unicorn, we adore Sweet Escape's pretty cupcakes with glittery horns priced at INR 35+.
So, We're Saying…
These Insta-food trends are here to stay. Join in or suffer from some FOMO.
Comments