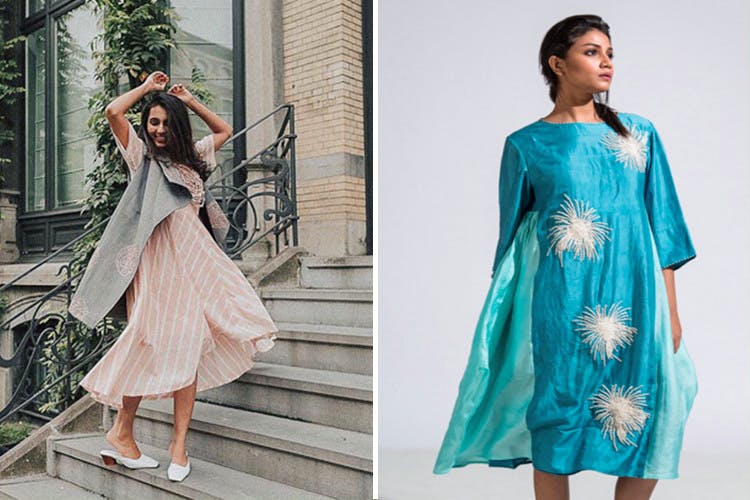 Bung The Bling: These 7 Design Labels Will Help You Pull Off An Elegant And Chic Look
If zardozis and brocades and OTT embroideries turn you off, hit up these city labels for understated elegance and muted colours.
Garo
This label by Kolkata-based designer duo Sweta and Priyangsu is named after a tribe in Assam, and talks about identity. They are known for their quality of fabrics, exquisite embroideries, flawless detailing, and prints and motifs.
Weavers Studio
Contemporary silhouettes and wearable textiles using hand-block printing, handloom, and hand embroidery techniques. Their store in Ballygunge is full of interestingly woven textiles like bright, crinkled Shibori scarves, stoles, saris, and fabrics — much like art textiles, pieces that look like works of art.
Label Ishana
Think loose comfy garment in handwoven linen, silk and cotton khadi with interesting silhouettes. We love the bold silhouettes and details and the fact they are so fuss-free. Unique most clothing in the market, they are anti-fit.
The Meraki Project
Their website says "Meraki" in Greek means, the soul, creativity, or love put into something. The clothes are about capturing beautiful feelings in a garment. The collection is very romantic, nostalgic, light and summery. You can find them at the Living Free store near Ballygunge Phari.
Jaya Rathore
This Kolkata designer does ethereal, light-as-a-feather garments with exquisite heritage weaves and embroideries. She also does a menswear range with light natural fabrics in shades like beige, lilac, rose pink and minty green.
Ruceru
Sequins, check. But understated, not blingy, in metallic colours. That's Ruceru's 'The Fallen Leaves' collection. Look out for olives, and charcoal tones and reds with with a dash of gold thread for the perfect wedding ensemble.
Bon Bibi
The Bon Bibi label by Kavita Banerjee was launched in 2005. Look out for saris and clothes in subdued hues, interesting weaves and embroideries and silhouettes. They use a lot of natural fabrics, batiks and dyes.
Comments