The information in this post might be outdated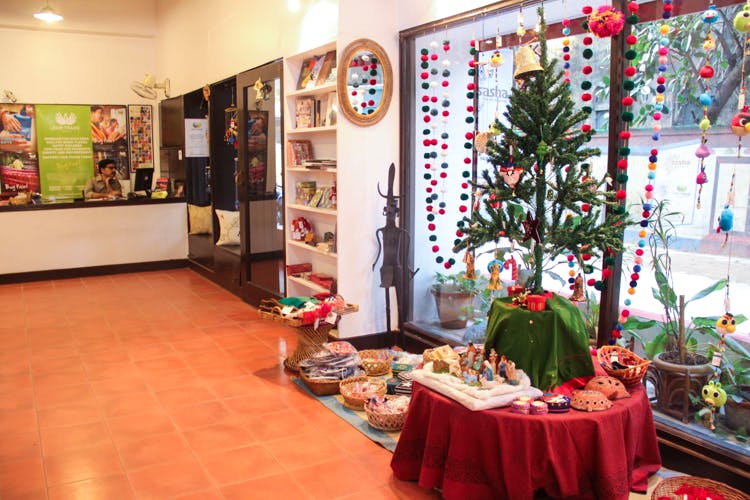 This Cosy Fair Trade Store Is Perfect For Handmade Gifts For Christmas
Shortcut
If you are looking for something different for Christmas, head to Sasha — they have the best handmade goodies.
Bubbly Baubles
Traditionalists will love the delicate handpainted baubles and stars, while those with quirkier tastes can choose from dokra ornaments and festive mobiles. Sasha stocks a lovingly curated selection of beautifully crafted baubles for your tree. Made with papier mâché and handpainted, these will last you forever and can be used around the house long after the Xmas season is over. The Xmas tree decor ranges from INR 75 to INR 115.
Dress It Up
The Sasha shop is full of wonderful things you'd actually use, from lovely Christmas cards and diaries to tree decorations made of Shanitinketan Dokra metal.
Little Treasure Boxes
Buy artisan stocking fillers like these papier mâché boxes with motifs like our jolly, red-cloaked man, flowers, birds, the three kings, and more. These are perfect as Christmas gifts as well. The small boxes with Santa comes in different colors and are for INR 85 only. The bigger, heart-shaped boxes are for INR 150+.
Star Light, Shine Bright
Do up your home with their star-shaped lights made with cane and wicker in reds, golds, blues and greens. Imagine these hanging outside your door or in your balcony.
Nativity Scenes
Do check out the nativity scene arranged around the Christmas tree near the window display.