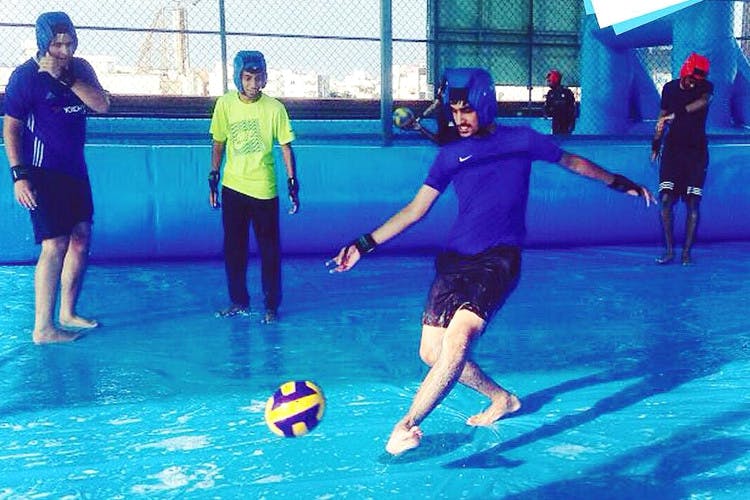 Calling Sports Lovers! Here Are Five Places To Address Your Sporty Needs
Be it trophies and medals for your next college tournament, or cricket pads and gloves you have been demanding for a long time, these sports goods stores will address all your needs to get into school/college teams or sports committees.
Sahara Sports
We suggest dropping by Sahara Sports, especially when the director of your sports committee has handed you a very thin wallet! You can get winners' trophies starting INR 200 and going up to INR 7,500. They keep combo trophies for winners and runners-up, which come for INR 2,000. The coolest part is, the emblem on the top of the trophies is detachable and can be used for any sport. They also have medals ranging between INR 10 and INR 20 and of varying sizes.
Uberoi Ltd
Tucked away inside a row of roadside shops on New Market area, Uberoi lives up to the name with a huge collection of sports goods like cricket bats, gloves, wrist supports, footballs, tennis racquets, leg pads and hockey sticks. To play a game of darts with your squad, get hold of their wide range of dartboards starting INR 330. You will also see gym equipment adorning the store racks. While sports accessories are priced between INR 350 and INR 1200, gym equipment starts from INR 500.

Panther Sports Company
Fancy a game of golf? Head to Panther Sports Company in Bhowanipore. It is one of the oldest and most popular names for golf accessories. The store also has an elite clientele - ranging from the army, navy and air force! Get clubs, grips, gloves, trolleys and shoes among others, basically anything related to golf. Select from a diverse range of clubs, including drivers, putter, fairway woods and wedges of brands like Callaway, Taylormade, Titleist and Mizuno.
Asian Sports
Golf, swimming, tennis or badminton - this store stocks equipment for all these sports. They also have a considerable collection of racquets, in addition to tennis kit bags, accessories and balls. You can buy a complete box of Yonex plastic shuttles if you have just exhausted your last stock of badminton shuttles.
Samur Sports
Samur is your go-to store when you're hunting for a football or badminton feather shuttle box on budget. Located in Hazra area, Samur is a household name in south Kolkata when it comes to a child's first SG cricket bat or Yonex badminton racquet. The store stocks all kinds of regular sports accessories, from something as tiny as a cricket bat tape to a badminton net.
Comments