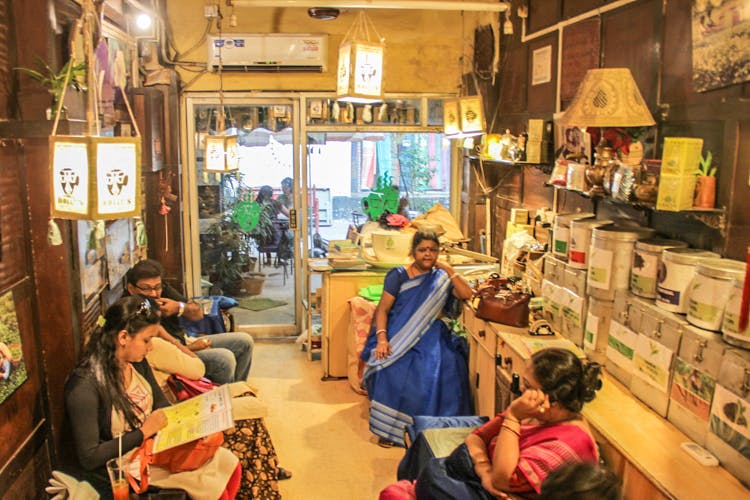 This Cafe Started By India's First Woman Tea Taster Serves Over 70 Types Of Tea
Shortcut
Dolly's Tea has over 70 types of hot and cold teas. We tried a few and can't stop ourselves from raving about it!
What Makes It Awesome
With its distinctive green-and-white coloured awning, this tea shop doesn't just offer tea, it serves up an experience. It has an olden day charm of its own, one that is not easily found in cafes these days. The cosy wood-panelled look, the decor with hanging lights, and tea kept in huge tins make this a great in place for some evening adda over a hot (or cold) cuppa. Dolly's incidentally was started by Dolly Roy, the first women tea taster.
Dolly's serves over 60 different kinds of hot and cold tea. We have been there on several occasions and still haven't been able to work our way through the menu! Head there with your squad to try their hot specials. Spice Lemon Tea, Spiced Ginger Tea, Kashmiri Kawa… the list goes on. Iced tea lovers, don't be disheartened, Dolly's has you covered. Their Orange and Mint Tea Julep is the perfect blend of tea with a hint of orange. Sure to lift up your spirits with its sweet and sour taste. The Lemon Barley and Apple Crush Tea are definite crowd pleasers! Dolly's has keep their creative juices flowing and keep experimenting.
They don't just serve tea and an experience, they also serve the most wholesome sandwiches. The Club Ham Sandwich here is quite good and worth boxing up and bringing home for anyone who missed out. The slices of fresh meat between brown bread, tomatoes and cucumber slices and and cheese are heaven. Vegetarians can have the Corn and Veg Cheesy Sandwich. They go extremely well with the tea.

Pro Tip
You walk into Dolly's and on your left will be a stack of books by different authors. These books are not found easily, so while you sip on your tea, you can take a look and buy the one you like. They also sell tea leaves in silver or jute pouches, which make a perfect gift for friends and family (we've seen people pick these up for a taciturn boss). This place should definitely become everyone's cup of tea!
Also On Dolly's The Tea Shop
Comments