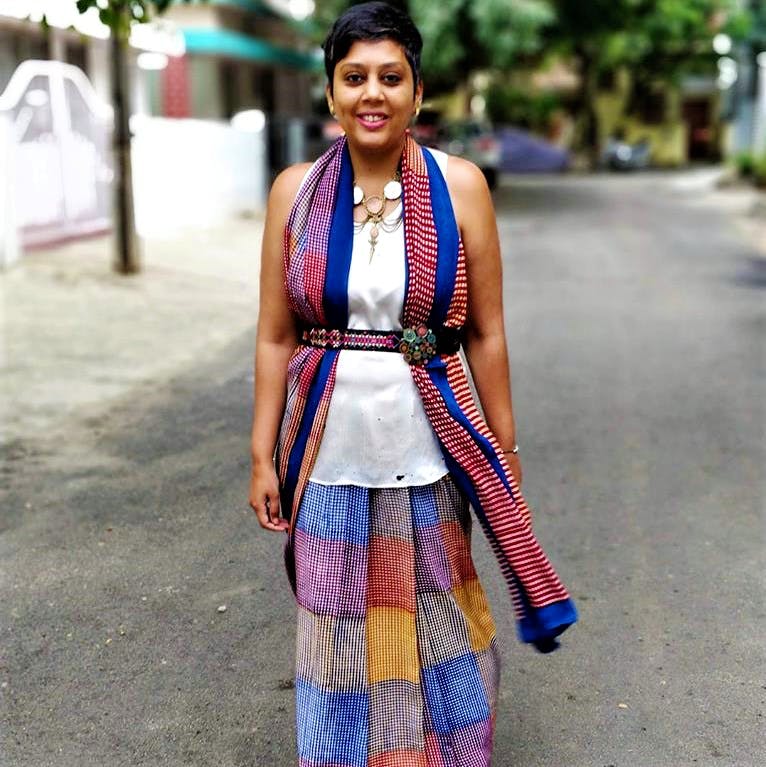 Syu Studio's Handmade Clothes Look Like You Are Wearing Funky Artworks
Shortcut
Bengal has had an enduring legacy of some of the most exquisite handmade textiles in India. And Kolkata is one of the few metro cities where you can still see people wearing handmade textile clothes. Over the past few years, several young people have taken to working with Bengal's textiles and we have been discovering them. One such local indie label we were delighted to stumble across was Studio Syu, a textile venture started in 2014 by textile artist Aparupa Ghosh, in Calcutta.
What Makes It Awesome
Syu's truly exquisite and unique range of products include bags, scarves, sarees, yardage and garments created using natural silk and cotton fabrics. Look out for the cat motifs in cotton - a touch of whimsical fun, it will brighten up your day. We found a Nehru jacket too - with uneven stripes and unisex design, it is screen printed on tussar silk and has a soft cotton lining. Also check out the geometric blockprinted organic cotton knee length open jackets. We absolutely adore the "All Things Calcutta" motif which can be found on a range of things like a khadi 'Lal Paad' scarf and table mats. The handpainted Chanderi scarves look like works of art which you can put up on your walls. And the "Colour Theory" crepe silk saree and scarves are so contemporary and abstract, it could hang in an art gallery. If you like a scarf, it can be made to order as sarees as well.

The price range is from INR 850 to INR 12,000. The sarees and scarves are block printed or handpainted in pure silk or cotton. The cotton sarees are INR 2,500 onwards and the silk sarees are INR 7,200 onwards. Cotton scarves are for INR 850 onwards, and the silks are INR 1,500 onwards.

A little bit about Syu and the work they do. Using traditional textile techniques and natural materials, they try to shape a trend that you'll love while staying close to a method they love. They work in collaboration with skilled artisans in methods like block printing (as a primary technique) and often merge or layer it with hand-painting and texturing processes. We loved the beauty and warmth of their imperfections and the slight colour variations or design difference that add its own character and tell an individual story.
Syu's collections explore colour, pattern and abstraction. They have a fun range of illustrated prints in collaboration with city artist/illustrator Jit Chowdhury as well and also a sustainable product line developed using 100% natural or herbal colours.
Growing up in Calcutta, a melting pot of tradition and modernity, Aparupa was moved with the idea to weave the aesthetics of the contemporary with the skill and beauty of traditional techniques. This brought to life Syu, with the endeavour to celebrate the glory of the contemporary handmade fabric. The distance between restoring tradition and moving on with the contemporary can be bridged by a thread. In Sanskrit, the word 'syu' defines this very thread that runs across the length and breadth of fabrics to create something wholesome. Syu strives to work with theirr hands to lend character to a product, that's lost when machine-made. Look up their Facebook and Behance page
here
for more designs. And e-mail heylo.syu@gmail.com for orders.
What Could Be Better
An outlet of some kind where we could pick up these beauties would be great. But we ain't really complaining. Things of beauty take time and can;t be mass produced for the market, right?
Pro-Tip
To place an order write to heylo.syu@gmail.com or DM/inbox with your requirement. You can visit the studio but call ahead as it is by appointment only.
Comments