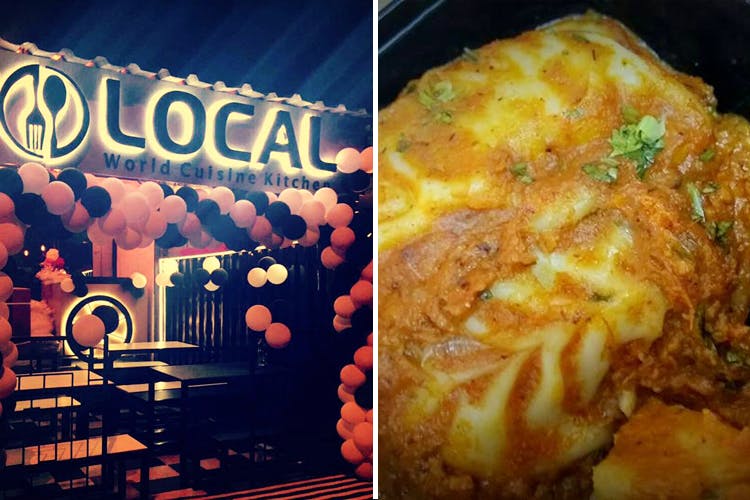 This Andheri Eatery Serves Makhni Momos & Home Delivers Food Till 4:30AM
Shortcut
Stop whatever you're doing- we just discovered a restaurant in Andheri that serves makhni momos and we believe achhe din have finally arrived.
Say Whaaat?
We have renewed faith in humanity- Local World Cuisine Kitchen in Andheri just did the unthinkable for us- it combined our love for chicken makhni with momos and presented 'chicken makhni momos' to us. That's right.
Imagine, first tasting the creaminess and richness of the thick tomato curry perfectly simmered with Indian spices, and then tasting the juicy chunk of steamed momos laced with garlic flavour. At first, the distinctness of the flavours strikes you hard, but the moment they meet in your mouth, its a party! Priced at INR 250 for a plate of six, these are delightful and just what you need in the middle of the night. You can also try the veg makhni or paneer makhni momos.
They have many options in this category and have a whole lot of items in their menu. They serve Indian, European, Thai, Tibetan, Burmese, Chinese, Indonesian and European cuisines. Go ahead and pick from starters, mains, snacks and so much more, all of which will be home-delivered till early morning. No kidding. This eatery home delivers lip-smacking food till 4:30am. So no more cravings and no more sleeping on an empty stomach because you can literally get all kinds of food here.
So, We're Saying...
God exists, he does, and you've gotta try these momos to believe it.
More Information
Local - World Cuisine Kitchen
Comments