What Is It?
During this time of the year, when a colder climate takes over the Konkan belt area of
Maharashtra, a beautiful phenomenon takes place in a quiet village named Velas. Hordes of tiny turtles make their way on to the sandy beach of Velas and lay eggs. During this time, one sees the sight of baby turtles break out of their egg shells and trot into the sea.
When Should I Go?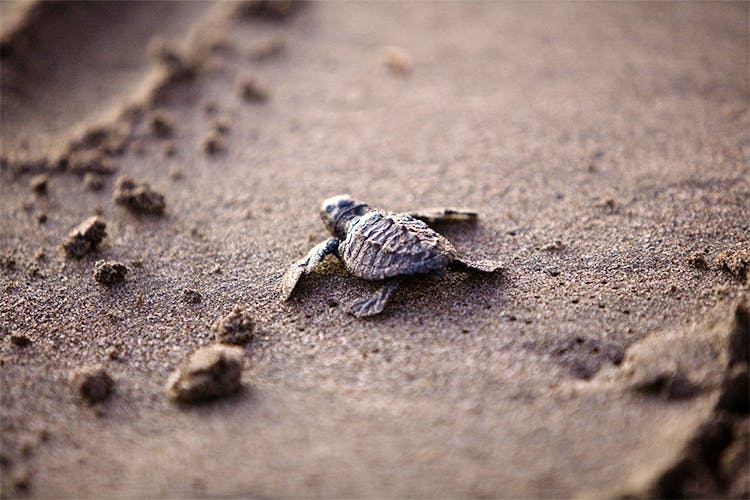 These Olive Ridley turtles hatch in multitudes from January to April. People who have made the visit before, however, will recommend going in the earlier months between January to early March, making now the best time to visit. One isn't allowed to disturb this post-birth process of the sea turtles, and can view this from afar.
How Far Is This?
Velas is accessible via road, and you may take the Mumbai-Goa expressway. 200 kms may seem far, but in just about six hours you step away from everything loud and chaotic and immerse yourself in a simple life, serene beach and turtle-trodden sands.
Anything Else?
While going alone is an option, it's really just much simpler to opt to travel with a group, who will manage your accommodation, travel and meals.
The accommodation, as well as meals, are very basic. You will be put up in the comfortable but not luxurious homes of the villagers, and the meals will be provided there too. We hear that these unadorned meals are packed with punch and flavour, and a feast to remember.
So, We're Saying…
Nobody said it'll be easy, the travel and stay require a level of roughing out and you will have to adapt to the surroundings, but once you spot sea turtles waddle into the ocean and swim away, we'd say that it would add to your favourite moments of this year to come.
Mumbai Travellers is organising a trip.
Get more info on the Turtle Festival here.
Where: Velas Village, Ratnagiri District, Maharashtra
When: Till April 15
Price: Depends on the group, approx INR 2,500 upwards
Photo source: JB London via Wikimedia Commons (CC BY 2.0)