The information in this post might be outdated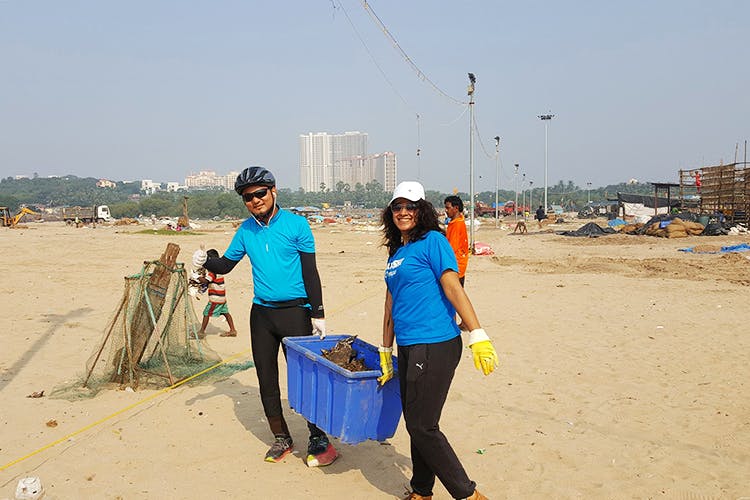 If You Love Clean Beaches, You Have To Head To Versova This Weekend
Shortcut
Clean-Up Versova beach is a community of resident volunteers who get together every Saturday and Sunday to clean Versova rock beach.
What's It About?
A Facebook community and a group, Clean-Up Versova Beach is an open volunteering group that anyone from Mumbai can join and can pitch in to help clean the beach that sees piles of trash that gets washed up every so often. Versova rock beach was thrown into the limelight owing to the amount of rubbish and trash that was found there and since then regularly receives attention for it's massive clean up sessions organised over the weekend.
It's one of the dirtiest beaches in Mumbai which not only affects the residents but even the fishermen's community that lives nearby. Hence, the residents decided to take it upon themselves to go and clean the beach.
How Does It Work?
It's simple really: just join the group online and fill their volunteer form, and you're good to go. They want more and more civic volunteers to come and help them clean the beach from across Mumbai.
You can help pick the trash, clean the beach and even mobilise more volunteers to join this programme. There is no mandatory volunteer hours so it's really up to you if you want to pitch in and help the community.
So, We're Saying…
If you have always wanted to contribute to society, but didn't know where to begin with owing to your full-time work hours or college sessions, this is the perfect opportunity for you. All you need is a couple of hours on Saturday or Sunday, and you help preserve the environment and claim our beaches back.
Join the group on Facebook here, and stay updated with the events.