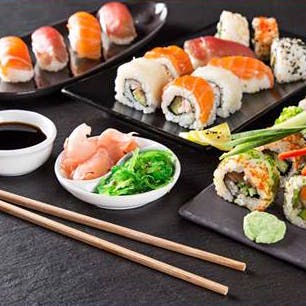 Love Sushi? Here's Our Pick On Where To Nosh On The Best Sushi In Town
A Japanese staple, sushi has taken the world by storm. And India is no different, with everything from casual dining spots to upscale fine dines serving up their take on this global phenomenon. If you're looking for a great place to practice those chopstick skills you've picked up, we've got you sorted. Read on for more.
Blue's Kitchen
Blue's Kitchen in Bandra may be tiny, but what it lacks in size it more than makes up for in substance (read: delicious sushi). There's both veg and non-veg options to choose from here, and offerings include classics like the yellowtail nigiri, tuna maki roll, and avocado nigiri. If you're more into experimenting with your options, then you can try the Blue's specials like the grilled chicken roll, which is perfect if you're with someone who doesn't care for seafood much. And their donburi with miso soup is fantastic too - we love the Japanese curry with chicken katsu in particular.
Pa Pa Ya
One of the hottest addresses for a fun meal out, Pa Pa Ya is fantastic if you're into trying fusion food. With its contemporary decor and creative menu, including a menu of excellent specialty cocktails, it makes for an enjoyable evening out. Sit at their sushi bar and order their signature modern sushi like the sushi burger with salmon wasabi, the layered sushi pizza and the crispy vegatable maki with dehydrated spinach. Of course, they have classic options too and we love how fresh the sushi here always tastes! P.S. It's fun to watch the chefs in action at the counter.
Joss
One of the OG Japanese restaurants to open in Mumbai, Joss has a special place in our hearts. This location in Santa Cruz has an upscale, contemporary aesthetic that we love for a fine dine dinner out. We suggest you try their in-house special rolls - their take on classic sushi. They also have Jain options available on the menu.
Shizushan Shophouse & Bar
Shizusan Shophouse & Bar is a trendy two-level restaurant that serves food inspired by Asian cuisine from Japan, China, Korea, Vietnam and South-East Asia. Their sushi selection is extensive, and you'll find their take on nigiri and maki rolls like the Peruvian, spicy crunchy tuna, tuna truffle nigiri and more. Pair one of their sushi platters with a signature cocktail (there's plenty to choose from) and enjoy a fun night out with friends or family.
Global Fusion
If you love sampling a wide selection of dishes and trying new options, Global Fusion is the place for you. With an AYCE (All You Can Eat) Buffet menu, this restaurant ups the ante on buffet dining, with live sushi counters, salad bar, a huge selection of small plates, mains and a dessert selection. We love Global Fusion for a fun evening out with family or your gang - their set up is perfect for group dining.
Comments