The information in this post might be outdated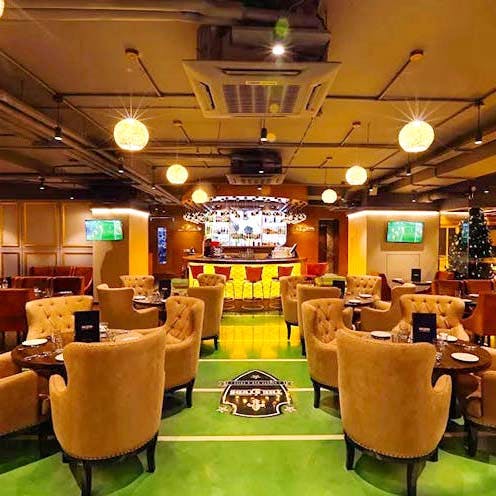 Here's Where To Catch The World Cup Matches With Your Gang And #BleedBlue
The ICC Cricket World Cup is just around the corner, and we're all set to grab our gang, a pint of beer, and get geared up to support the boys in blue! Here's our list of bars that are screening the matches through the World Cup, where you can catch the action, live!
Garage Inc
Nestled in a quiet lane off the bustling Causeway, Garage Inc brings all the nostalgic, old-school vibes to life. While this may not be immediately come to mind as a place to watch the World Cup, the bar will be screening matches through the cricket season. If sipping a drink under vaulted ceilings, amidst an atmosphere that hearkens back to yesteryear is your deal, then head to Garage Inc during the World Cup and cheer on the team!
London Taxi
One of SoBo's most happening night spots, London Taxi is a favourite party zone come the weekend. Blingtastic, with fun cocktails and a happening vibe, this bar is all set to screen the World Cup from May 30 onwards. Grab a pal or your partner, one of their signature cocktails like the Oxford Street or the Sherlock In A Pickle and catch a table to support your team in blue.
Yeda Republic
Yeda Republic in Juhu with its submarine theme and funky interiors just screams cool. Get ready to be served your drinks by the 'crew' and sip on their fun cocktails like the Ghaas Poos or down a few shots of their signature Yeda Bomb. We hear the bar's got a fab Happy Hour menu too! They'll be screening the World Cup from May 30th, so be sure to pop by and get a few drinks down the hatch while supporting the team.
3 Wise Monkeys
3 Wise Monkeys near Khar Station is an all-time favourite for sports watching. They screen sports on the regular and the ICC World Cup is no exception. The bar is usually packed in the evenings, and the small space crowded with tables. It's noisy, boisterous and all-round fun to support Team India here!
MHO4
MHO4 The Drunk Yard in Thane is your next hangout destination with the gang. The spacious bar boasts an industrial vibe and features great decor in keeping with its theme - check out those light fixtures! The place heats up after sundown with DJs spinning the hottest tracks to keep you groovin'. During the World Cup, they're all set to screen the matches and we think the vibes gonna be contagious!

Thug Lyf, Thane
Mural-splashed walls, brick detailing and neon lighting create a unique atmosphere at Thug Lyf in Thane. The bar's got a fun party vibe and special seating for groups that makes it a great night spot to hit up on a Friday or Saturday night. If you're in the mood to drink, their list is extensive and has everything from beers, shots, whiskeys, and a whole assortment of cocktails made with your liquor of choice. They're all set to screen the ICC World Cup during cricket season too, so what are you waiting for?
Rude Lounge, Belapur
With outlets around the city, Rude Lounge is pretty well known as a fun hang out spot to grab a drink with friends. The lounge has verandah seating too, which we just love since it's hard to come by in this city! They're all set to screen the ICC World Cup and we think you should go here, grab a drink and start cheering for the team!
Union Bar & Eating House
With its cool brick-exposed decor and pretty patterned flooring, Union Bar & Eating House has a trendy vibe. Known for its live music gigs on Saturday nights, the bar is a fun place to spend a weekend evening with friends or your partner. The menu's extensive and they have great set-meal options from Monday to Sunday that are fantastic VFM. The drinks are no less here, and you can sip on beers, cocktails, shots and more. They'll be screening the World Cup from May 30th onwards too, so we don't see why you shouldn't stop by to cheer on the team!
Glocal Junction
Planning where to watch the next big match? Glocal Junction in Andheri and Worli has you covered. This World Cup season they are screening matches along with a special Cricket Mania menu. Savour dishes like Mushroom Galauti and Alphonso Mango Cheesecake. Keep an eye out for their special Ekka Punch offer and get food, cocktails and drinks at INR 1, INR 11, and INR 111 during this season!
The Studs
The Studs in Sakinaka, Andheri boasts of a huge screen that's all set to showcase the World Cup matches. The bar is also going to be hosting a special menu and offers through the World Cup season. With a lively atmosphere and live screenings, this is a fun place to catch the cricket action with your gang and #BleedBlue.
Escobar
Nightlife hotspot, Escobar is all geared up to host live screenings of the Cricket World Cup this season. The bar will be screening live outdoors on large screen and they also have offers that you can avail while watching the match like 2+1 on selected drinks and unlimited tapas platters too.
Comments