The information in this post might be outdated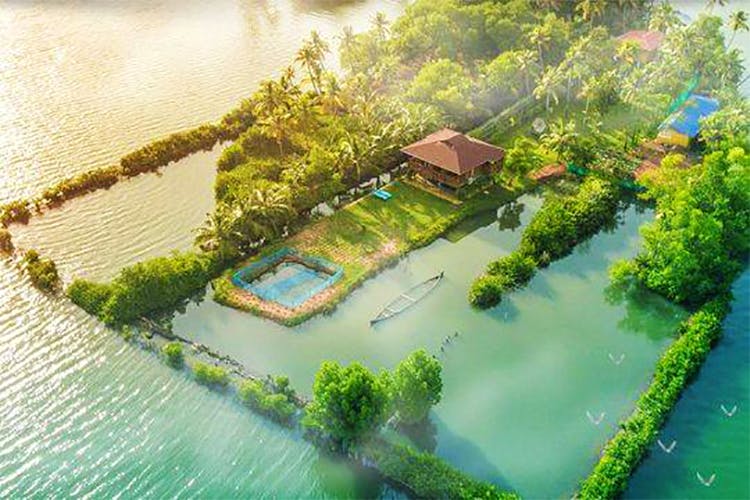 Forget Villas, You Can Now Book An Entire Island For Your Next Holiday
Shortcut
Whilst browsing through the gift that the internet keeps giving us, we stumbled upon Oye Happy, a website that lets you customise gifts and experiences for people. And here, you can gift/book an entire island for yourself, and be the true royal that you always have been.
Your Own Love Island
Oye Happy is a website that curates the most unique gifting ideas – and one of them includes gifting your partner, parents, or yourself a tiny island in Kollam, Kerala. Say whaaat? That's right, you can book a tiny cute island in Kollam and have the most romantic getaway possible.
The tiny island has a gorgeous wooden farmhouse. Here you'll be staying for the night, and can whisk your partner away to in the middle of Kerala's soothing backwaters.
How Does It Work?
Kerala has plenty of tiny islands that are basically tiny land pieces separated by the backwaters. Though it may not be your luxurious island, it is a cute village-island where you'll be staying in a cosy wooden farmhouse, and enjoy everything that the nature has to offer.
The package has been mainly customised for couples – which is perfect – because what's better than your own private love island? Go on candle-light dinners, go fishing , or check out the organic farm on the island. And you do what people in Kerala do- watch the sun set in a boathouse and live in the bliss of a rather luxurious holiday.
For INR 39,500 per night per couple, this dream getaway can be yours. This includes activities such as kayaking, fishing and a tour of the village in the house boat. To add to this, the meals will be cooked by your personal chef, and you even take cooking classes to learn the local cuisine.
So, We're Saying...
Got a big anniversary or a birthday coming up? We know what makes for a perfect gift. We know we are saving up for this, onto the wishlist now.
You can check out this amazing getaway here.