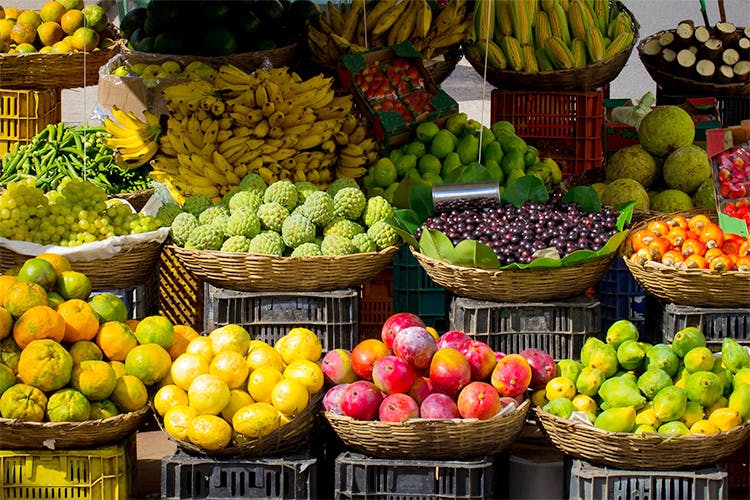 What, Where, When: A Beginner's Guide To Mumbai's Thriving Farmers' Markets
Shortcut
If you are looking to shop better, smarter and with a conscience, you've got to hit up one of Mumbai's thriving farmers' markets. Not only will you get the freshest of produce, but you'll also be buying directly from the producer, enabling them to get a fairer price. Check out our list.
Farmers' Market at D'Monte Park, Bandra
The Farmers' Market by Kavita Mukhi remains the original organic farmers market in the city. Started in 2010, and certified by Eco Cert, makes it the only 100% organic farmers market. It is currently held at the D'monte Park, Bandra.
The farmer cooperatives are from in and around Nashik, Maharashtra. The market caters to all as it sells "exotic vegetables" like broccoli, leeks, lettuce, etc while the other section sells native and seasonal vegetables.
When: Every Sunday from 9am to 3pm
Where: D'Monte Park, Bandra
Juhu Farmer's Market
This market is a joint effort of organisations; The Inner wheel club of Bombay West, SHARAN and Natures Gram.
The market does not sell any dairy products like ghee, butter, cheese nor any sugar or any form of fats. Farmer cooperatives come from all over the state, mainly Satara, Palghar, Boisar and Ahmednagar.
Locally grown avocados, star fruit, sprouts, methi, rice and maath are sold as well. Taking it a notch further, smoked tofu and bedding made from organic cotton. organic washing powder for utensils and shampoos can be found here.
When: Every Sunday, 10.00am–1:30pm
Where: Pushpa Narsee Park, Opposite Jamnabai Narsee School, Juhu
Comments