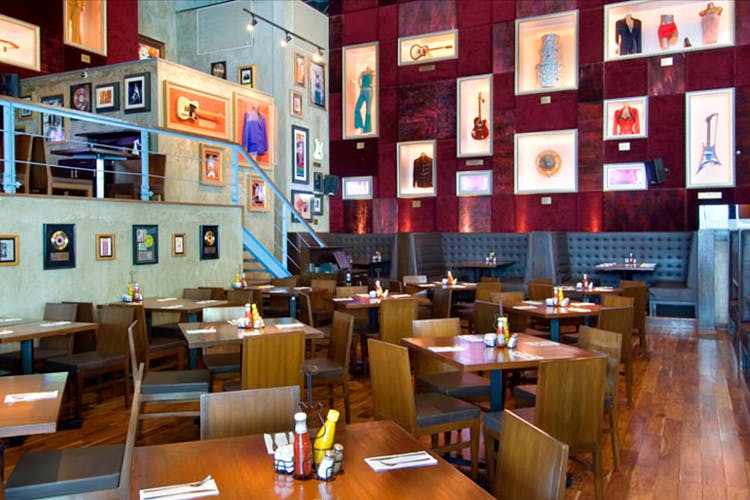 Karaoke, Souvenirs & Legendary Burgers: This Cafe Has It All
What Is It?
If you're a fan of the oldie goldies when it comes to music, there is no better place than this. Groove to the beat while enjoying a cold beer or sangria (take your pick). Of course, the more liberated can also get onto the dance floor with a chicken drumstick in either hand, which will probably be proof that you love food as much as having fun. (We won't judge you for that.)
What truly makes Hard Rock Café stand out is that it's 6,600-square-foot in size, so that means there's so much room for jiving or even cheering on in delightfully drunken stupor, while appreciating iconic clothing and instruments worn and played by some of music's true legends.
What's Special About It?
Apart from some great music, you can also enjoy Wednesdays for karaoke. The staff indulges in games such as dunking a shot of tequila down your throat if you sing in front of a crowd. Another game they indulge in is giving you a shot and circling you around 10 times (who else gets some sadistic pleasure watching dazed people stumble about?) We suggest the less adventurous stay out of this mad rush.
Don't forget to join the staff as they jive to the YMCA anthem at 9 PM – totally worth our time and money!
Chow Down
Hard Rock Café Andheri actually has a pretty cool menu, but apart from the usual fare, there's a 'Screw Rush Hours' menu from 5-9 PM every day, that lets you enjoy liquor from INR 100 and finger food from INR 265. A pretty sweet deal, if you ask us!
They have a Corporate Weekedays offer (Mon-Wed, after 8 PM), where a group of 8 people get a limitless offer for just INR 1,600.
Apart from offering great food to compliment the play, they also have a World Burger Tour (May-June) that lets you experience legendary burgers from around the globe. You can take your pick from the Quesedilla Burger (Mexico), the Chamorro Burger (Guam), the Katsu Burger (Japan) or the Tennessee Burger (Memphis, USA).
Beyond that, we've all loved our nachos, brownie chocolate, mocktails (yeah, we're fond of them too!) and fish.
Check them out here.
So, We're Saying...
What are you waiting for? Once you're done reading this, we expect you to be there to embrace your closet Freddie Mercury or David Bowie.
Comments