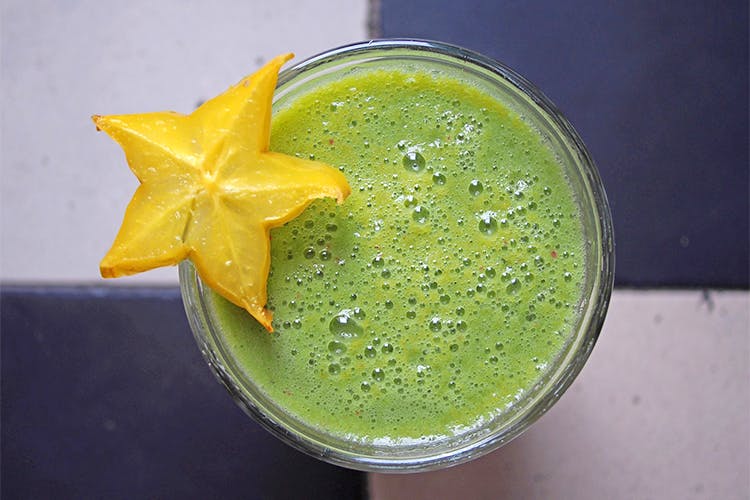 Ten Smoothies In Mumbai Which Are Healthy, Delicious And Oh-So-Yummy
Smoothies are indulgent juices: they are fruity, creamy and delicious. One can go all out experimenting with different ingredients, make it as healthy or indulgent you want it to be. But we see no reason for you to skip your healthy diet and stay away from these. Stick to healthy and clean eating, with our guide to the healthiest smoothies in town.
Gym Junkie @ Cafe at the NCPA
The gym junkie smoothie at cafe at the NCPA is basically a bowl of health. There's fresh banana, toasted muesli, honey, low-fat milk and low-fat vanilla yoghurt. It's delicious and perfect for people on a diet.
Green Smoothie @ Kitchen Garden by Suzette
This smoothie is as green and healthy as it gets. With kale, avocado and mango and lime it's a vegan and gluten-free smoothie. In general, Kitchen Garden has great smoothies, though they are not for people on a budget. You can also add toppings to the smoothie, like their homemade chocolate granola, whey protein et al.
Price: INR 380
Kashmiri Saffron @ Sequel Bistro & Juice Bar
The gluten-free bistro in Bandra has a great collection of smoothies. However, we love the Kashmiri saffron smoothie. It's soy milk infused with Kashmiri saffron, organic raw buckwheat groats and organic seeds and Kashmiri honey to sweeten the taste.
Dairy-Free Smoothie @ Bombay Salad Co
Selected from the dairy free section, the kale, spinach and banana smoothie made with soy milk is fresh, healthy and super tasty.
Basic Bro@ Vibe Liquiteria
The basic bro smoothie is really smooth, as you can choose your ingredients as and how you like them. Choose from banana, nut milk, dates, or cacao natural peanut butter and more. If you want, you can also make a bowl out of your smoothie by adding 70 ml of sugar free granola.
Soy Milk Smoothies @ Gostana
Gostana is the cutest cafe in Khar, with it's pet friendly environment and affordable meals. They offer soymilk smoothies with options of going for fresh fruits smoothies. Choose from banana, strawberry and other fruits available at the cafe.
Green Detox Smoothie @ Birdsong Cafe
The green detox smoothie is perfect post a great workout session. It includes leafy greens, apple, banana and chia seeds.
Mulberry Smoothie @ Pishu's
Pishu's in general has a great collection of smoothies. Though all of their smoothies are great, we especially love the mulberry smoothie.
#LBBTip: They will also just home-delivery a single smoothie.
Green Smoothie@ The Village Shop
The green smoothie at the Village Shop is the one to go for when looking out for your diet. It includes fruits and dates and leafy green veggies.
Comments