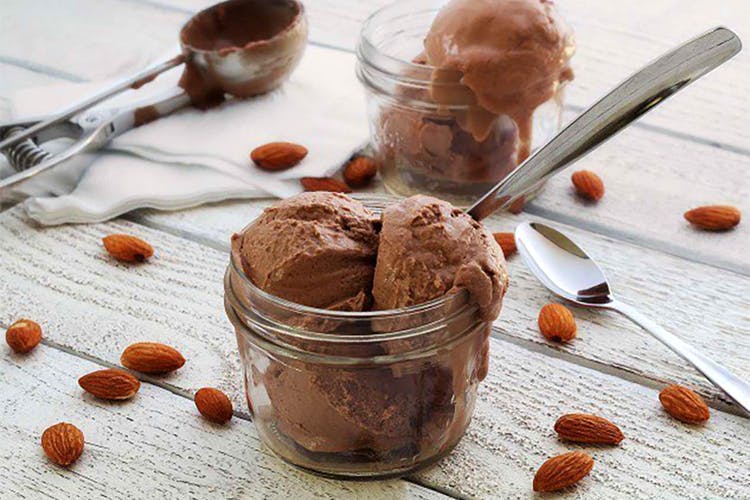 Sin Without Guilt: 8 Healthy (Yet Delicious) Desserts In Mumbai You Will Love
As long-standing believers of the 'see food, will eat' diet, we know that cutting back on the good things in life is a torture like none other. Let's not do that to ourselves. When you're out and about and want a bite of a sweet treat, opt for these healthier options instead.
Chocolate Almond Mousse at The Village Shop
The Village Shop in Bandra offers up healthy food in general, and has loads of vegan options, too. Try their chocolate almond mousse which has no dairy, is fully vegan and hence fully eliminates the cholesterol content from it. They've got lots of healthy cakes as well, so go crazy!
The Homemade Chocolate Sorbet at Bombay Salad Co.
Who knew that salad places made such good dessert? Here's a dairy-free dessert that's still super luscious. The chocolate sorbet is a two scoops of pure joy, and you really won't miss regular ice-cream once you've tried this. Another feel-good and taste-good dessert to try here is the Oat and Chia Pudding.
Sugar-free Ice-Creams at Papacream
Papacream, the crazy ice-cream parlour that makes hummus ice-cream has something for the health-conscious too. Have a go at their sugar-free chocolate ice-cream.
Price: INR 120 a scoop
Oatmeal and Raisin Cookie at The Yoga House
There's something about The Yoga House that makes you feel that even the air you breathe there is healthier, so naturally when it comes to food, we know that it's got to be right. When a cookie craving is too strong, forego the chocolate chip and ask for an Oatmeal and Raisin Cookie instead. We know that the one here is pretty good.
Carrot Cake by Vegan Bites
Vegan Bites doesn't just do delivered lunches! They've got loads of options for indulgent yet super-healthy options for cakes, as well. we're partial to the Carrot Cake (INR 1,750 per kg) and the Chocolate Truffle (INR 1,150 per kg). Need a raw vegan cheesecake? An 8-inch one will cost you INR 4,500.
Pumpkin Pie at 212 All Good
212 All Good is a great option when you just want a completely healthy meal, made delicious from homemade, raw ingredients. Raw sugar is the sweetener of choice for this joint. They have other interesting desserts too, and we're curious about the Banana-Walnut Bread Pudding, and the Apple-Cinnamon Tart.
Looking for vegan dessert? They've got vegan ice-cream in Vanilla, Cacao Cream, Saffron-Pistachio, and Figs and Walnuts.
Choco Fudge at Earth Cafe at Waterfield
This vegan cafe's got indulgent options fit for cheat days, but they've got sugar-free options too! We recommend the Chocolate Fudge (INR 190) and the Chia Pudding (INR 250). On cheat days, try the Happiness Bowl (INR 450), which is the vegan answer to a Baked Alaska!
Johnny Bravo at The Herbiary
While it sounds super indulgent, the Johnny Bravo, with its gluten-free dark chocolate brownie crumble, banana slices, and nuts and seeds and the peanut butter drizzle is actually super healthy! And it only costs INR 110. Dig in, we say!
Ask Bhavika a question